Facing adversity for the first time all season, it was time for the Christopher High football team to show what it was made of. In the end, the Cougars passed their first test of 2022 with a 24-10 non-league win over an always tough Leigh High team on Sept. 24.
"We finally had to fight a little bit and we got the win," Christopher coach Darren Yafai said, referring to the team winning its first three games by a combined margin of 120-16. "At the end of the day, whether you win by 30 points or win by one, a win's a win."
The Cougars (4-0) had two weeks to prepare for the Longhorns (0-5) because they were coming off a bye week. However, it was Leigh that looked like the fresher team, taking it to CHS early with a power run game.
"I think their (coaching) staff did a better job of preparing their guys in one week than we did our guys in two weeks," Yafai said. "And that's on me because they came with all kinds of adjustments."
The Cougars fumbled away the opening drive of the game on the second play from scrimmage, and Leigh made them pay, converting the turnover into a 7-0 lead. CHS answered as Jaterius Lee took a swing pass and juked a couple of defenders before scoring on a 26-yard play with 2 minutes, 47 seconds left in the first quarter.
Alan Canales provided CHS with a lift by connecting on a 32-yard field goal with eight seconds left in the second quarter. That was critical because the Longhorns nailed a field goal of their own on the opening drive of the third to make it 10-10, taking nearly seven minutes off the clock in the process.
Once again, the Cougars had an answer. They covered 60 yards on 10 plays, capped by Jaxen Robinson's 5-yard TD pass to Saed Mustafa. It was a nifty play as Robinson rolled out to his left as if he was about to take it himself.
However, just before Robinson got to the line of scrimmage, he pitched the ball as if he was shooting a basketball to a wide-open Mustafa in the end zone. Mustafa had a career-high six receptions for 106 yards, a true breakout performance.
The junior had a 32-yard reception earlier in the drive to set up his own TD, which made it 17-10 with 23 seconds to go in the third. The Cougars wound up pulling away on their penultimate series, highlighted by William Rizqallah's 28-yard TD run.
Another junior standout, Rizqallah went through the heart of the Leigh defense before making a nice cut to the right sideline en route to the end zone. Only then was CHS able to breathe a sigh of relief, knowing it was going to keep its perfect record intact—despite a far from perfect performance.
"Leigh is a team with a lot of pride and a perennial power, and they very well could go 5-0 in their league (BVAL Santa Teresa Valley Division) and win it," Yafai said. "Maybe all of us might have underestimated them a little bit, so yeah, we were frustrated. I think as a staff and as players, we have to go into every game thinking it doesn't matter if this team is 5-0 or 0-5 or whatever."
CHS totaled 287 yards of offense to Leigh's 182. Robinson continued his ascension, completing 17-of-24 passes for 199 yards and no interceptions. Eric Argumedo led the ground game with 55 yards on 13 carries, followed closely by Rizqallah's 53 yards on eight rushes.
Lee finished with four catches for 60 yards. Sophomore Evan Vernon made some impressive plays throughout, producing two tackles for losses and an interception on Leigh's final series. The entire CHS defense was pretty stout, bending but not breaking.
Defensive linemen Kenyon Hawkins, Kingsley Okoronkwo, Ezequiel Begines, Brian Garcia and Danny Camilleri controlled the play up front, allowing other playmaking defensive players such as Damiann Gomez, Julious Aragon, Amari Bluford, Argumedo and Rizqallah to have space and fly to the ball for tackles or provide coverage in the secondary.
From an aesthetic standpoint, wins come in many forms. Some are masterpieces, some are ugly, while others are somewhere in between. Though Yafai will be the first to say the team's victory wasn't pretty, he knows good teams find a way to win.
And that's exactly what the Cougars did against a solid Leigh squad.
"It was a battle, it was tough, but we pulled it off," Yafai said. "We shot ourselves in the foot a few times here and there, but in the end we got it done and got the 'W.' We'll take that."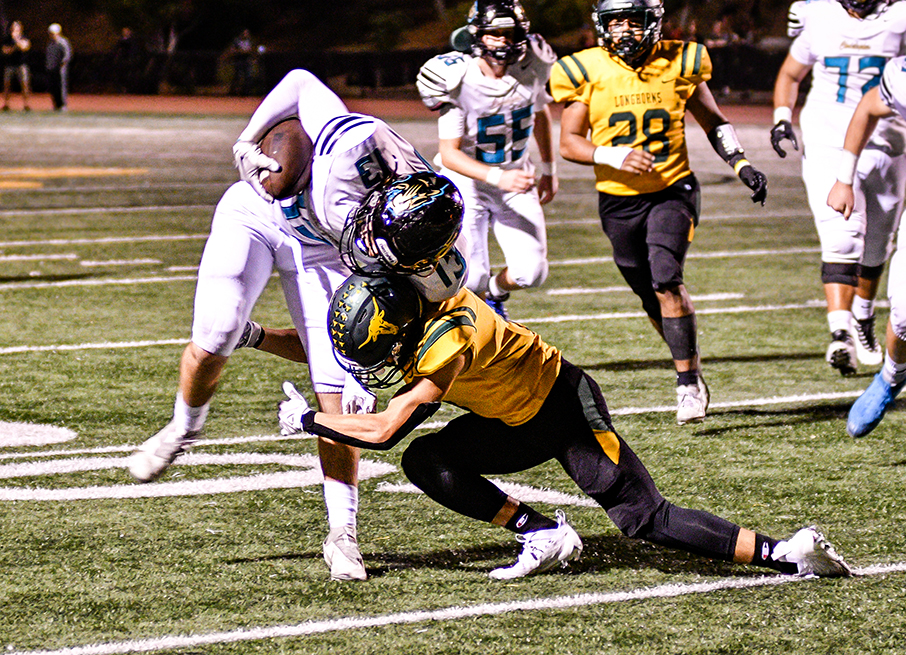 Sports editor Emanuel Lee can be reached at [email protected]