The unique aspect of an all star game is players from rival schools are often placed on the same team. So it was for the Christopher High and Gilroy High football players who competed in the 36th annual Central Coast All Star Game on Jan. 14 at Rabobank Stadium in Salinas.
Mustangs quarterback Jadon Perkins and Cougars QB Spencer Gorgulho split time under center, with Perkins playing the first and fourth quarters and Gorgulho the second and third quarters. Perkins completed a couple of passes to Christopher High's Mason Pena, who was selected to the game along with Gilroy's Dylan Chirco and Marcques Anthony.
The Christopher and Gilroy athletes played for Tatum's Treehouse, which lost 20-19 to Children's Shopping Tour. The teams took the names of the local charities they chose to represent. Perkins, who had a stellar season for the Mustangs, liked the fact he got to play with standouts from other teams throughout the Pacific Coast Athletic League.
The Central Coast All Star Game selects standout seniors from players who prep for schools in San Benito, Santa Cruz, Monterey and south Santa Clara counties.
"Overall, I was happy and it was a pretty fun experience," Perkins said. "It was a great, blessed time to have the opportunity to participate in actual football. It was fun to be able to talk with people from different cities and for all of us to be able to show our skills and get along with each other."
Perkins said he and Gorgulho both threw for one touchdown and that he connected a lot with Pena, Evan Johnson of Stevenson High and Sean Irving of Marina High. Prep football all star games tend to be just like any other regular-season game in that guys are going after each other from start to finish.
"With any game, I take it as if it's my last and I treat every game like it's a championship game," Perkins said. "I play 110 percent until I hear the final whistle so there's no difference in games unless they tell me it's a game where I'm not supposed to be aggressive."
The Christopher and Gilroy seniors started playing together eight years ago in Pop Warner, so it was only fitting they ended their prep careers together on the same field as well.
"It was really fun to compete with those guys one last time before we go to college, especially the Christopher guys since we're at different high schools now," Perkins said. "The best part of the game was coming out and hearing everyone's name being announced. It was great we were chosen as all stars."
When the final whistle sounded and the Tatum's Treehouse's comeback fell short with a couple of minutes left in the game, Perkins admitted he was melancholic over the result and the end of his high school career.
"I'm not going to lie, it was heartbreaking," he said. "I had a good year for the high school season, but we didn't get to where I wanted to. So that and losing the all star game was a little tough. But overall, I had a really good time and it was good to see people follow through to what they said they were going to do."
For Anthony and Gorgulho, their high school careers aren't done yet. Both will be playing in the Charlie Wedemeyer All Star Game on Feb. 5 at Los Gatos High, of which there will be a preview story on this site next week. That makes Anthony and Gorgulho unique as football players who will have competed in two different All Star Games.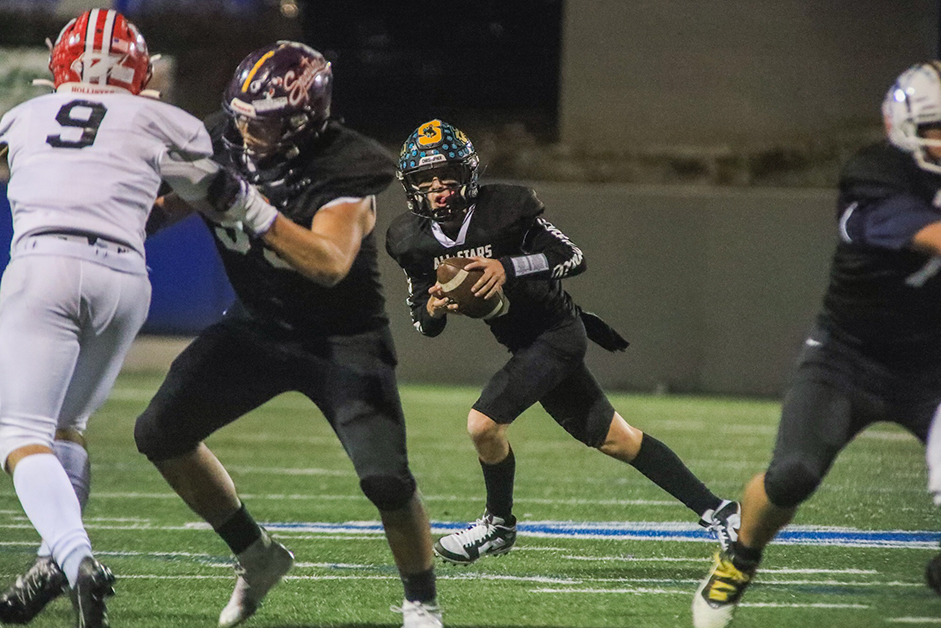 Sports editor Emanuel Lee can be reached at [email protected] and (831) 886-0471, ext. 3958.