Errors in the state's Covid-19 data reporting system have led to vast undercounts of both positive and negative results in counties throughout California.
El condado de Santa Clara seguirá ofreciendo pruebas de diagnóstico de Covid-19 gratuitas del 11 al 14 de Agosto en Gilroy.
Gilroy Gardens' 20th anniversary season has been postponed to 2021, the park announced Aug. 4. Citing the "uncertainty surrounding...
The nearly 20 trailers intended to house people with Covid-19 have largely been removed near downtown Gilroy, but not before neighbors and...
Santa Clara County will offer free Covid-19 diagnostic testing Aug. 4-8 in San Jose and Gilroy. These walk-up testing sites...
County health officials are investigating four Costco stores, including Gilroy, on reports of Covid-19 "clusters." According to Santa Clara...
Los funcionarios de salud del condado de Santa Clara informaron 259 nuevos casos de Covid-19 el 30 de Julio, elevando el total...
Santa Clara County health officials reported 259 new cases of Covid-19 on July 30, bringing the total to 9,612 positive cases since the pandemic began.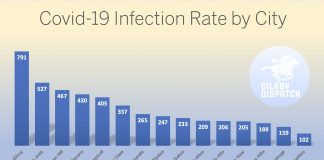 Gilroy has the highest rate of Covid-19 infections of any city in Santa Clara County, according to statistics released by the county's...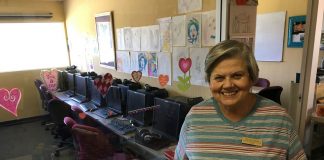 Learning & Loving Education Center Director Christa Hanson is pictured in a 2018 file photo at the nonprofit organization on Church Street.