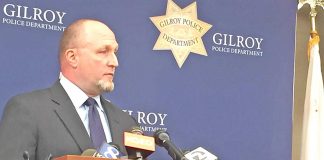 No new information has yet been released in the year since the FBI opened a domestic terrorism investigation into the Gilroy Garlic...
The FBI is investigating the Gilroy Garlic Festival shooting as a domestic terrorism incident. In making the announcement in Gilroy Aug. 6, authorities said Santino...
Santino William Legan, the 19-year-old Garlic Festival killer, was one of four brothers in a well-known Gilroy family who grew up in a neighborhood...
The FBI arrested Aaron Carlon, 42 of Gilroy, at his workplace Monday morning, on a warrant for two felony counts of child pornography.
Few details have emerged in the week following an early morning raid in Gilroy, in which a 42-year-old man wanted by local police was apprehended by federal agents on yet-to-be-announced charges.
FBI agents and Gilroy Police Department officers raided a home on the 200 block of Lewis Street Thursday morning and arrested a 42-year-old man, police said.