Gov. Gavin Newsom on Sept. 28 signed Assembly Bills 2043 and 2165, two pieces of the California Farmworker Covid-19 Relief Package, the...
California Assemblymember Robert Rivas is leading an effort to provide more healthcare services, support and information to the state's farmworkers—a sector that has suffered more than others from the Covid-19 pandemic.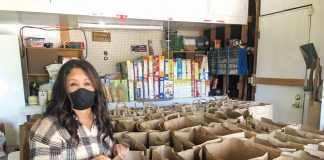 Morgan Hill's Cecelia Ponzini—who has helped more than 10,000 families gain access to food, clothing and other necessities—is the Woman of the Year for California Assembly District 30.
The state assembly "overwhelmingly" passed a bill that will expedite the construction of Anderson Dam's seismic retrofit, according to Assemblymember Robert Rivas.
The most hotly contested local primary on June 5 could be in the 30th Assembly District, which encompasses all of San Benito County, much...
San Benito County supervisors reduced the car allowance for appointed department heads from $500 to $350 at last week's board of supervisors' meeting, while there were concerns from one department head that there should be some exemptions to the allowance.