When the Christopher High girls soccer team won the program's first-ever Central Coast Section championship last year, it overwhelmed the field, outscoring three opponents by a combined margin of 15-0.
The question was not if the Cougars were going to win, but by how much. This season, CHS got placed in a tougher bracket—Division II as opposed to Division III in 2021—and the road to a title repeat would be markedly more difficult.
That's what made the Cougars' 3-1 win over Piedmont Hills on Feb. 26 all the more impressive—this team, while talented, had to dig much deeper to repeat as a section champion. 
"Top to bottom, this was probably the game of the year where literally every girl gave everything," Christopher coach Matt Oetinger said. "I can't ask for anything more and quite frankly, that's the effort level it was going to take for this team to win. We've got some talent on this team, but we are not the most talented team so it was going to take that level of effort to put us over the top."
Kaiya Stewart continued her spectacular play with two goals and Ella Oetinger had one as the Cougars (12-5-1) advanced to play in their first-ever CIF Regional game. They earned the top seed in the Division IV NorCal bracket and will host No. 8 seed Colfax on March 1 at 5pm.
So, this year's CHS team has made history in more ways than one in repeating as CCS champions and reaching a CIF Regional match.
"Everyone on the team and especially the seniors have done so much in their time here," Matt Oetinger said. "I mean, this is really about achieving history and that's a heavy concept when you're in the middle of doing it. For them, it's unbelievable. It feels great."
CHS got off to a somewhat ominous start when Piedmont HIlls (19-3-1) scored just three minutes into the game. But Stewart immediately grabbed the ball out of the net, sprinted to the midfield line, put the ball on the kickoff/center spot and placed her feet on the ball as if to say, "Let's go, we're not only going to get that one back, we're going to score more."
And that's exactly what the Cougars did. A dynamic junior forward, Stewart scored the equalizer in the 28th minute. Ella Oetinger sent a cross to the penalty area which the Piedmont Hills goalkeeper made a play on, but couldn't hold onto the ball.
Stewart was there to pounce on it and headed it in the open net. It was one of a half-dozen chances Stewart had in the first half as she repeatedly displayed her tremendous work rate to win and possess balls before firing a shot on goal.
CHS threatened throughout, outshooting the Pirates 14-9 and having numerous shots from the likes of Stewart and Jenna Urrabazo go agonizingly wide by a couple of feet. Despite the near misses, the Cougars kept on going forward, methodically building up their attack. Ella Oetinger had another fine game defensively and scored the game-winner in the 63rd minute.
CHS had gotten the ball to the penalty area and a loose ball came straight to Oetinger, who was a couple of yards outside the top of the 18-yard box. With no defender around her and a clear view of the net, Oetinger smartly lofted a shot to the far left post out of the reach of the Piedmont Hills goalkeeper.
Oetinger immediately fell to her knees, face on the ground, in a moment of equal parts euphoria and relief. Finally, after several golden scoring chances, the Cougars had struck again. It was just the beginning. In the 72nd minute, Stewart delivered the dagger when she made an aggressive run into the 18-yard box and was fouled, drawing a penalty kick.
She took the PK and scored, accounting for the final margin.
"It feels great, it feels amazing, and to have a team work so hard to get here is just incredible," Stewart said. "We all work for each other and we knew we had this game. We knew we could win it, and we didn't let them scoring first get in our heads. We stayed positive and had a mindset we knew we were going to score so we weren't worrying about it."
CHS beat Menlo-Atherton 2-1 in the quarterfinals before edging Menlo School 2-1 in overtime in an evenly-matched contest. In the final, the Cougars simply had too much firepower for a solid Piedmont Hills side.
"They're a good team, but I thought we were the more dangerous team as time wore on," Matt Oetinger said.
Cougars goalkeeper Ella Donohue had a couple of outstanding saves where she was perfectly positioned to cut off the angle against Pirates' shots that came from close range. In addition to all the aforementioned CHS players, it took tremendous effort from players at every position for the team to succeed.
From Carlie Silva doing an outstanding job at outside fullback—a position she hadn't played until the semifinal round this season—to the efforts of Skyler Turiello, Emma Davis, Sophie Gonzalez, Kayla Puga, Taylor Mejia, Jessica Schween, Rainelynn Antipuesto and Ashlyn Platt, the Cougars were playing as one and contesting everything.
"At the end of the day, they all have to buy in so hard they're willing to sacrifice and it's going to hurt," Matt Oetinger said. "They're playing hurt, they're playing injured, and you just saw it. Making those runs late in the game, they're exhausted, you've been elbowed, we've got girls bleeding. I just couldn't be more proud of the whole crew."
Both teams worked extremely hard that exhaustion had set in even before the final whistle. The Pirates had success on the seams, but CHS did a nice job for the most part of clearing the ball out once Piedmont Hills got into the attacking third.
Conversely, the Cougars' relentless foray into their attacking third resulted in a decisive 7-3 advantage in corner kicks. Talk about grit and determination. CHS lost two starters—Cloey Turiello and Aesha Sandoval—at the beginning and end of the regular-season, respectively, and still had enough in the tank to repeat as CCS champions.
"Every single person on this team has that grit mentality," Stewart said. "We work and put in the effort until the last minute, and that is what's so special about this team. To win CCS again, it's the same rush, the same adrenaline, the same amazing feeling you love to have."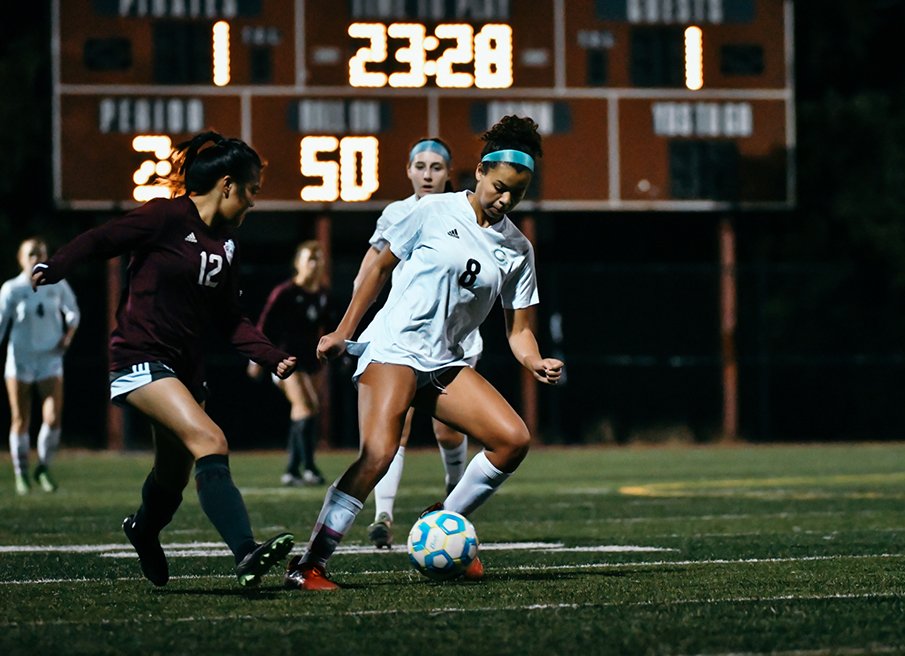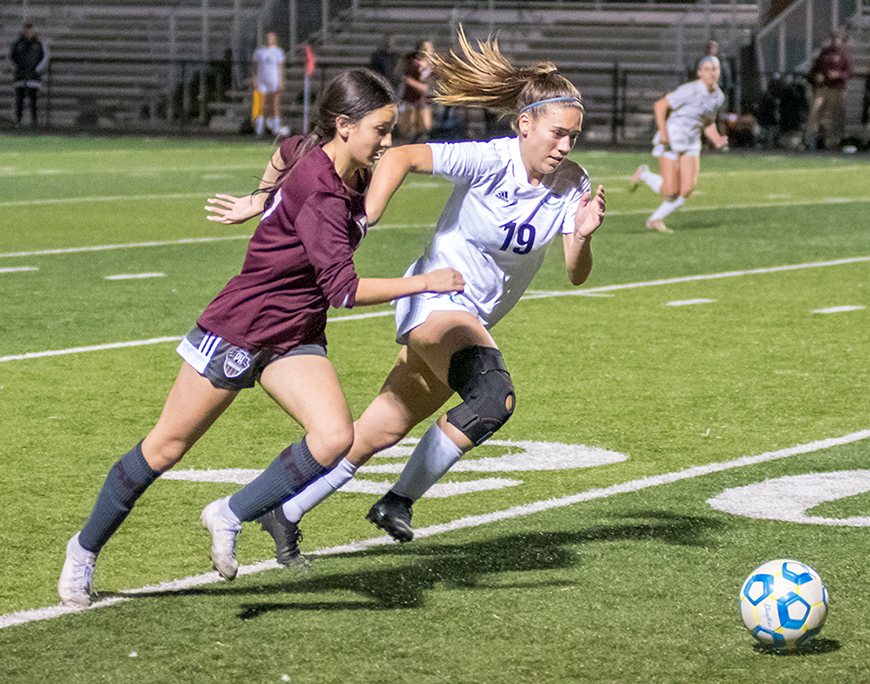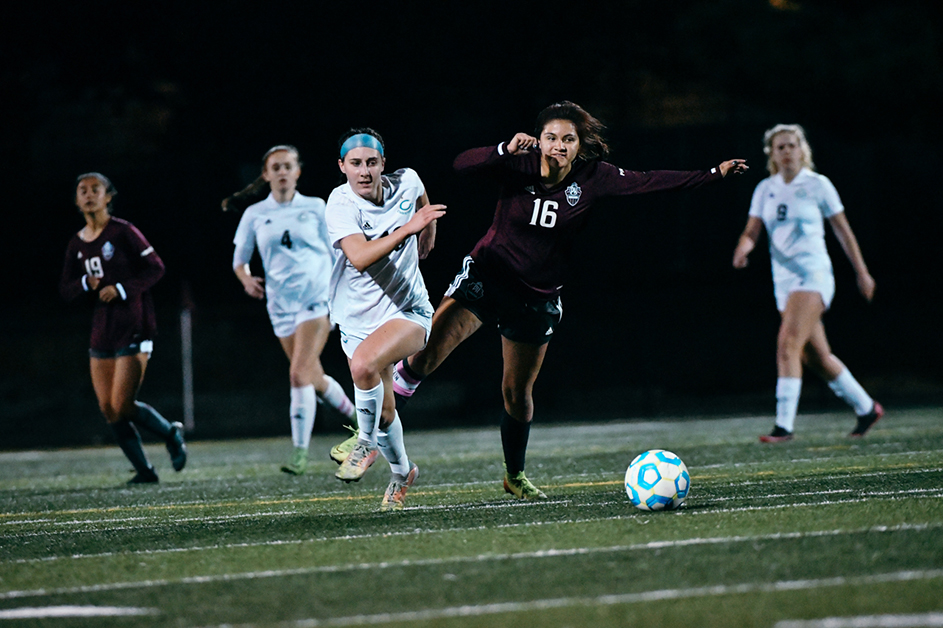 Sports editor Emanuel Lee can be reached at [email protected]