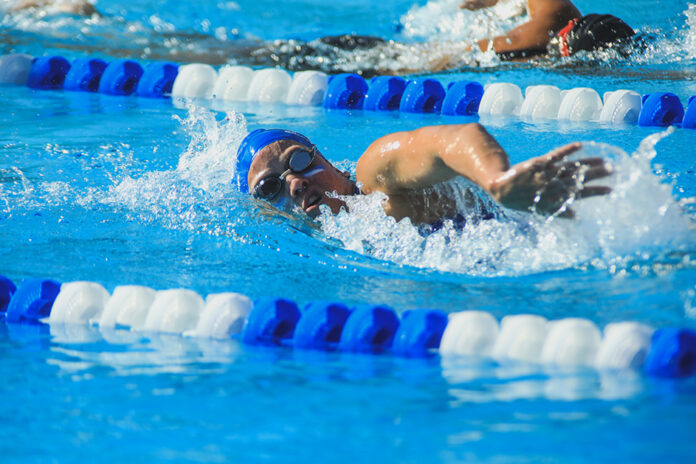 Despite her swimming accomplishments, Gilroy High junior Zoey Zeller loves being just one of the girls. After the scheduling didn't work out for her to compete for the Mustangs in 2021, Zeller is back this season and thoroughly enjoying the experience.
"It's been really great because in high school swimming the meets are a lot faster and there are a wide range of events," she said. "So it's really fun to race a couple of events, especially the relays because they're really fun and you don't get to do those much in club swimming."
Although everyone is trying their best in the high school meets, the atmosphere is a little looser compared to national club meets or say, the U.S. Olympic Trials, which Zeller competed in last summer in Omaha, Neb. Zeller, 16, raced in the 200-meter breaststroke, finishing 13th in Wave 1 (the slower of the two Wave divisions). She clocked a time of 2 minutes, 34.82 seconds in the morning preliminaries before finishing with a 2:35.18 in the evening finals. Zeller also got to time trial the 200 individual medley and the 100 breaststroke, nailing a personal-record (PR) in the latter event.
Zeller felt like she did well considering she was swimming the 200 breaststroke for just the third time. She also gained experience of being in a high-stakes setting, something that should serve her well as she looks to lower her times and move up some spots in the 2024 Trials in her quest to make an Olympic team.
For Zeller, high school swimming provides the best of both worlds: a fun environment along with top-notch competition, which she'll see at the Central Coast Section Championships and CIF State Championships.
The latter event—which she expects to qualify in is at the Clovis Olympic Swim Complex May 13-14—will feature a handful of swimmers who have a chance of qualifying for the next Olympic Trials.
Through the first three Pacific Coast League dual meets, Zeller had competed in six of the possible eight events, covering all the different stroke events including the 200 individual medley. A complete swimmer, the breaststroke is still Zeller's best event.
"I'm hoping later in the season in CCS to beat my time in the 100 breast," she said. "There will definitely be people I know from club swimming at CCS, so I know what the competition will be like. It'll be really exciting because everyone is typically quick at that meet. And it would be really cool if I'm able to make state."
Zeller said her next two best events after the 100 breaststroke would probably be the 200 IM and 100 back. Her goal is to go sub 62 seconds for the 100 breast and to hit 2:01 or the low 2:02 mark for the 200 IM.
"Just small improvements would be great," she said.
Gilroy coach Doug Pickford, who is as straight shooter as there is and provides valuable, detailed insight into the athletes he coaches, said Zeller is a special athlete for several reasons.
"She swims laps by everyone all the time and that doesn't get in her head," Pickford said. "She has zero attitude and you would never know she's any different from any kid out here. I love her attitude because she works so hard and is the friendliest kid you'll ever meet. It's a joy to have her around here.
"She is very loyal to the team and just an incredible swimmer. And as accomplished as she is, if you look at the way everyone treats everybody on this team, she's just another swimmer out there because we're a family out there. You're all teammates, all equal, all encouraging each other at all times, and not just at the pool. She buys into that and the rest of the team buys into that, so it works really nice."
Pickford marvels at Zeller's form, which has been developed through years of hard work, first while growing up in Texas and then when she moved to the area and started swimming under Tom Lebherz at South Valley Makos.
"It's like watching a dolphin in the water," he said. "She's so efficient and it's crazy how good of a swimmer she is. Her stamina is so good she's just a machine."
Other Gilroy girls standouts include sisters Emma and Mackenzie Vanlaar, and from the boys team, Matt Stelzner and Ayden Reed.
"On the boys team there is no shortage of hard workers," Pickford said. "Matthew has a fair amount of club experience in the past and has done a great job for us in the freestyle. Ayden does the butterfly now and he's an animal. You love a kid who works so hard."
Like all competitive swimmers, Zeller swims twice a day, once before school starts and again after her final class. She's at Live Oak High in the morning for club practice, and also does strength-training twice a week. She practices Saturday mornings but has the rest of the weekend off, a necessary time for mental and physical recuperation for someone who has already put thousands of miles on her body.
Even though the grind of being a top-level swimmer can be tough at times, Zeller makes sure to cherish the process.
"There are definitely some days where you really have to balance it," she said. "Sometimes, it's difficult to find ways to have fun. But most days, especially lately—I've really been enjoying swimming, going to practice and competing. You also feel good about yourself after having a good practice because you know you've put in the work."
Sports editor Emanuel Lee can be reached at [email protected]