Gilroy Motorcycle Center recently moved into its new digs at 303 East 10th St., filling a large building in a prominent location that has stood vacant for nearly a decade.
The center outgrew its longtime location at 7661 Monterey St. in downtown Gilroy, and announced in July that it signed a lease for the former Orchard Supply Hardware building after years of searching.
The move from the cramped 14,800-square-foot spot to the 36,000-square-foot building allows Gilroy Motorcycle Center to expand its services and products, General Manager Greg Bumb said.
The center went from four service bays to 10, and Bumb estimates it now has about five times the parts storage. A customer lounge sits near the front entrance of the building, while a 48-foot-long service counter allows more customers to be served at a time. The large parking lot makes it a breeze for customers to load and unload their motorcycles, which was an issue at the original location.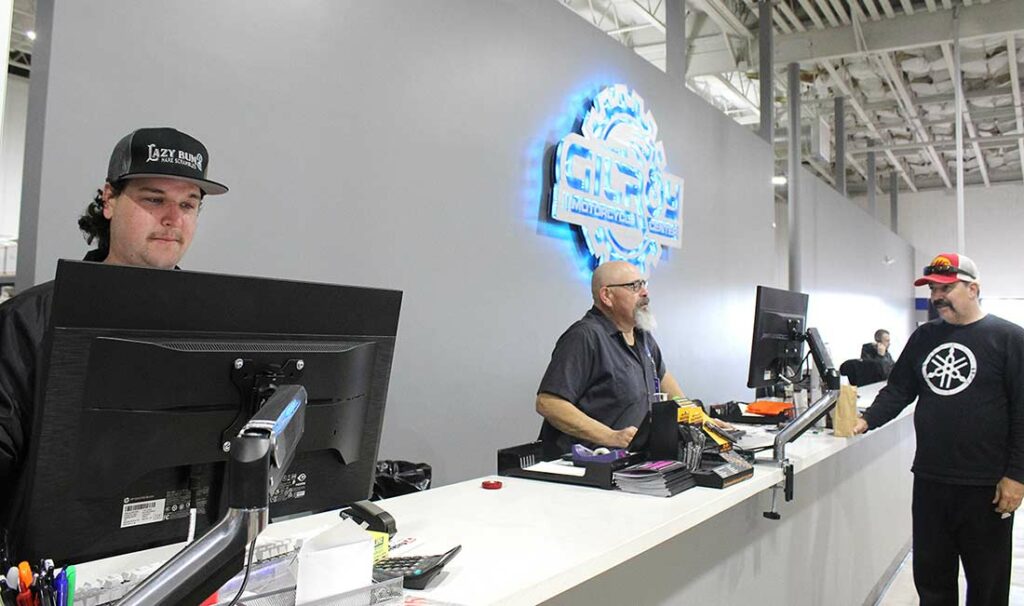 Gilroy Motorcycle Center was also able to add two more brands to its lineup thanks to the increased space, bringing its total to 11.
"We're excited to be here," Bumb said.
The building previously housed Orchard Supply Hardware, which closed its store in 2014, a year after the San Jose-based company filed for bankruptcy and was purchased by Lowe's.
Bumb admitted it's been a challenge configuring the layout of the large showroom, after years of being confined in the relatively small downtown location. OSH's former garden center remains empty for now, but Bumb said he envisions an outdoor showroom to take over the spot.
Bumb said many customers are wowed by the size of the massive showroom, and are drawn to the sizable lighted blue sign crafted in the shape of Gilroy Motorcycle Center's logo that serves as a centerpiece for the parts department.
"That's exactly what I wanted," he said of the customers' reactions.
A grand opening celebration, featuring a swag bag for the first 200 customers, is scheduled for Feb. 12. For information, visit facebook.com/GilroyMotorcycleCenter.