In every community there are unsung heroes, individuals that offer their service, commitment and dedication, time and again. The many roles Isabel Jewell has held with the Friends of the Gilroy Library over her four decades of service to the non-profit is a key factor to the organization's success.
Jewell's selfless dedication has not gone unnoticed. On March 19, surrounded by her co-workers, friends and library staff, Jewell was honored in a dedication ceremony at Gilroy Library. Jewell's youthful face beamed as onlookers cheered and applauded the new signage at the entrance to the Friends' bookstore which read, "Welcome to the Isabel Jewell Bookstore."
The bookstore dedication came as quite a surprise to the 93-year-old who was expecting a simple get-together to celebrate her retirement from her long-held position as Chair of the Friends' bookstore.
"I just thought the other Friends and the Board would be here," Jewell said. "I didn't expect anything like this. It's just such a nice surprise and very generous of them. I'm just overwhelmed."
Growing up in the small town of Wilson Creek, Wash., Jewell developed her love of reading. "We didn't have any TV and there wasn't much to do, so I read a lot," she said. "My mom used to have to call me several times to come set the table, (that was my chore), because I had my nose in a book, and I didn't want to quit reading. I still read a lot."
When the dedication ceremony ended, the party moved to a conference room on the second floor filled with attendees, including Community Librarian Cassandra Wong.
"The sweat equity that the Friends bring, I think, is unparalleled and their hard work and dedication makes us all feel like we're working towards a bigger goal," Wong said, as she presented Jewell with a photo album highlighting countless activities offered at the library made possible through the bookstore. "You're a shining example of caring about your community…and I really appreciate all your help and I'm glad we're able to celebrate today."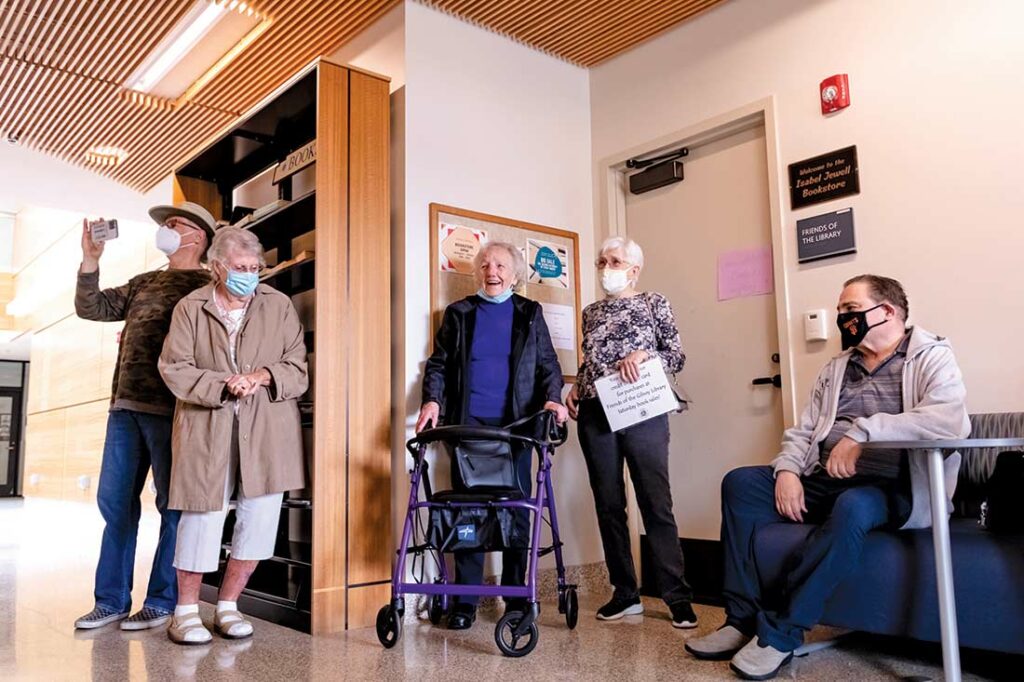 Also in attendance was Wong's predecessor, Lani Yoshimura, who took on the role in the early 1980s and is responsible for ensuring the Friends' organization continued.
"I was trying to reorganize the Friends, it had existed but there were no officers, there was really nothing," Yoshimura said. "And then one day Isabel showed up."
At Yoshimura's request, Jewell took on the role of Secretary/Treasurer in addition to organizing the yearly bookstore sales. But she didn't stop there.
"We had a very extensive periodicals collection, probably one of the best ones in the Valley, I think we had close to 300 subscriptions," Yoshimura explained.
Due to budget restraints the subscriptions were in jeopardy. It was Jewell who provided a solution when she began a letter writing campaign petitioning local organizations and groups in Gilroy for donations. Due to Jewell's successful fundraising, the periodicals remained accessible to library patrons, an invaluable asset to the community, according to Yoshimura.
"It made a significant difference in the way that we provided our up-to-date information to our community," Yoshimura said. "It's amazing what she's done for us over the years. You could ask her to do anything, and she'd do it. You could always rely on Isabel."
Yoshimura first suggested the dedication ceremony and the Friends board unanimously agreed. "She's a big reason we are where we are today, and she deserves every honor we can offer, although she would be the first to deny that," Friends President Phyllis Dillon said.
"We are very grateful for Isabel, that she has hung in there with us for so long," Yoshimura added.
Friends volunteer Laura Franchi credits Jewell with, "instilling literacy and learning throughout the Gilroy community," due to her tireless commitment to the bookstore and its patrons.
Friends' member Patricia Jackson couldn't agree more.
"For all the hours and years she's given to the community in this way, I think the dedication is a fitting legacy," Jackson said.
"Isabel's dedication to keeping the bookstore going over the years, with no regard to how many hours she worked, has been indispensable," Friends volunteer Carol Smith said. "It won't be the same, but the continued success of the bookstore will be due to her selfless dedication and hard work."
For Sharon Tyler, another member of the Friends, it's Jewell's generosity of spirit she will never forget.
"When she ran the bookstore alone, she was the president, treasurer, historian, chief cashier and bookstore organizer," Tyler said. "Without her inspiration, I doubt the Friends' group would be as active as it has become."
Joining in the accolades was Adult and Teen Services Supervising Librarian Kelly Young.
"Having the Friends of the Library and Isabel's support has really enabled us to do many of the things that Gilroy has provided for the community," Young said, adding that the cycle of giving from the community, back to the community through the book sales allows those funds to be utilized in countless ways. "So, thank you so much Isabel, and all the Friends, and may this partnership continue forever."
In response to all the accolades, Jewell was quick to reply.
"Thank you to the Friends for this wonderful party, and support the library," she said with a smile.