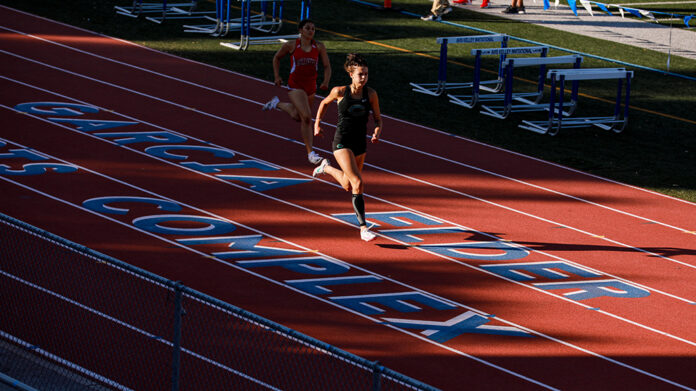 Melia Middleton is still trying to find the form that pushed her to second place in the 300 meter hurdles race in the Central Coast Section Championships last year.
The Christopher High junior feels like she's getting close, and just at the right time. Middleton won two events in the Pacific Coast League Masters/Central Coast Section Qualifier Meet at Gilroy High on May 6, including the 300 hurdles in a season-best time of 46.39 seconds.
Although that mark is still off her personal-record (PR) of 45.96 established last year in the CCS Championships, her Masters Meet performance was an encouraging one because it came a week after she fell in the PCAL Mission Division Finals.
That's why she was running in Lane 8 in the Masters Meet, the lane normally reserved for competitors with the slowest heat/qualifying time coming in. Even though she was on the far outside lane, Middleton controlled the race from the start and only got a little out of sequence on her steps over the final two hurdles.
"It was definitely weird to run in Lane 8 because I hadn't done that in a while," Middleton said. "But I didn't want to focus on that. I just wanted to run my race and do my thing. It felt pretty good to come through in first. The season has been going pretty good. I've been hitting PRs in the 400, though not in the hurdles. But I'm hoping for those soon because I've been working on my steps."
Middleton won the 400 meters in 59.25 seconds, off of her PR of 58.93 which is the eighth best mark in the CCS this season. But she looks primed to hit another PR soon.
"I felt pretty good and strong out there," she said. "I felt a little sick after the 400 so I was just trying to get ready for the 300 hurdles coming up after that. It feels good to be doing both events because I've been training hard so I could do both in the same meet. Last year I wasn't in enough conditioning shape to do both in one meet, but now it's going pretty good."
Two other Christopher High juniors—Gabriela Baxter and Kingsley Okoronkwo—won titles in the Masters Meet, which takes the top seven finishers from each event to the CCS Semifinals on May 14 at Gilroy High. Baxter won the high jump with a mark of 5 feet, two inches off her PR of 5-2 which is tied with three others for seventh best in the CCS this season.
Okoronkwo went 44 feet, 2 inches to win the triple jump, beating his previous PR by a foot. Cougars coach Jeff Myers said it was a huge measure of redemption for Okoronkwo, who hurt his back during the long jump competition and finished ninth in that event.
Okoronkwo has the third best mark in the triple jump in the CCS. If he repeats his Masters Meet performance in the CCS Semifinals and Finals, there's a high probability of him earning a berth to the CIF State Championships. Yet another CHS junior, Alex Hubert, won the boys pole vault with a mark of 12 feet.
Hubert actually tied for the top mark but won based on fewer attempts. In 13 meets this season, Hubert had gone over 11 feet just twice, but one was the week prior in the Mission Division Finals. So, Hubert was primed to unleash a huge PR. Hubert started the season with a mark of 8-6, but seems to be peaking at the perfect time.
Several other Christopher and Gilroy athletes had solid performances. For GHS, senior Nicholas Guzman took second in the 3200 meters in 9:38.08, and fellow senior Katie Turk finished second in the 100 hurdles in 16.67.
CHS also had a second-place finish from sophomore Caitlynn Holt, who clocked 49.03 in the 300 hurdles. She also teamed with Baxter, Middleton and Sarah Arcelo on the 4×400 relay team that finished second to San Benito High in 4:17.39. 
Sports editor Emanuel Lee can be reached at [email protected]