Quilting can mean many different things for anyone who stitches. It could serve a practical purpose, an escape from everyday life or just done for the love of the craft.
For Judy Bozzo of Gilroy, the joy she gets when giving a person a hand-made quilt is what inspires her. A quilter for about 15 years, Bozzo recently donated a slew of toddler quilts to St. Joseph's Family Center, which were distributed to the Ochoa Migrant Center.
"I've always sewed and I just like to quilt," she said. "People ask me, 'why do you cut up fabric to put it back together again?' It's just a pleasant thing to do and it's always a nice thing to give a person a quilt."
Dozens of local quilters showcased their works of art during the Gilroy Branch of the American Association of University Women's Quilt Show on May 7, co-chaired by Bozzo and Marianne Peoples.
The event, held at the IFDES Lodge in Gilroy, is the local AAUW branch's main fundraiser. Proceeds go toward scholarships for graduating seniors, and sending middle school-aged girls to the Tech Trek residential STEM program.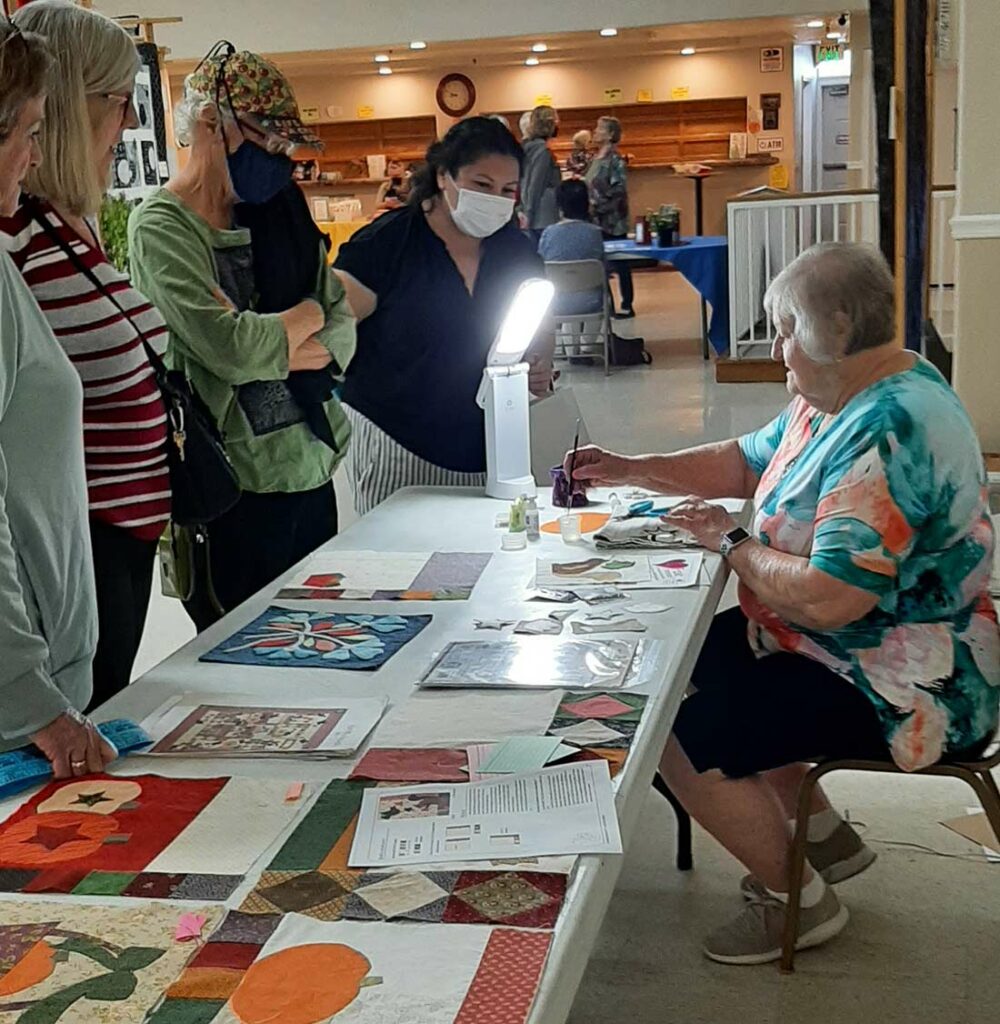 One of the Tech Trek students, who participated in the program a number of years ago thanks to the AAUW scholarship, is now doing cancer research at Stanford after earning her master's degree, according to the local branch.
Gilroy AAUW has been supporting student scholarships for 30 years and Tech Trek for 20 years, providing young women with the opportunity to pursue careers in science and math.
The quilts on display showcased a variety of styles and themes. Quilts associated with the Covid-19 lockdowns were well-represented, as Bozzo noted quilting has experienced an uptick in popularity over the past two years as people remained at home for longer periods of time.
Another quilt by Diana Berry was crafted from the Hawaiian shirts once worn by late Gilroy businessman John Saccullo.
Attendees also had the chance to win a ginkgo leaf-inspired quilt made by Margie Enger.
"Many people are doing more modern abstract things, and they'll put all sorts of things in a quilt," Bozzo said. "I tend to like scrappy quilts. I like to find odds and ends and add them to a quilt."
The quilt show also featured a lunch, demonstrations of quilting techniques, a boutique and raffles.