Sunshine Bicycles, which has helped generations of locals get rolling on two wheels, announced recently that it is closing up shop after 47 years in business.
Steve Warner, who founded the First Street business with Norman Currie in 1976, said the "hard" decision came down to a number of factors. Warner said the business, after nearly five decades, has seen countless customers grow up over the years, even bringing in their own children.
"It's bittersweet," he said. "We had a great time in town. There's been so many wonderful customers over the years. We have so many wonderful memories of people and their families. It's multigenerational. It's heartwarming."
Warner added that since the closing signs went up on the 311 First St. business, many customers have stopped in to share their memories with the staff.
"The community has given back in many ways to us," he said.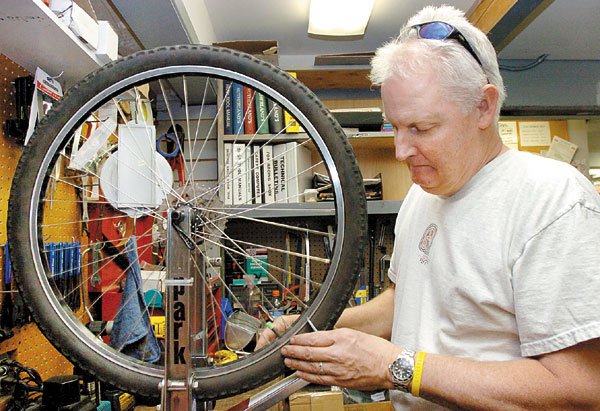 Sunshine Bicycles carries a variety of mountain, road, electric and other bikes, along with numerous accessories and parts, as well as a service department.
Warner said the last half-decade of the business has been a bit of a rollercoaster. It has suffered a growing number of break-ins recently, and currently has some of its windows boarded up due to the latest burglary.
Last year was slow sales-wise, he said, predicting 2023 would be the same. At the onset of the Covid-19 pandemic in early 2020, bike orders exploded at Sunshine Bicycles and other shops throughout the country, as people stuck inside at home were looking for outdoor activities.
"There was quite a run on bicycles, and people were buying bikes all at the same time," he said. "At one point we got down to very, very few bikes in the store with no ability to get more for some time."
Like countless other industries, supply chain issues caused long delays to get new shipments of bicycles, Warner said.
But by the time 2022 rolled around, everyone who wanted to purchase a bike had already done so over the past two years, and with the supply chain problems easing up, products that were on backorder for months started pouring into Sunshine Bicycles.
Now, Sunshine Bicycles is liquidating its inventory with deep discounts before its eventual closing sometime in the next 30 days.
Avid bicyclist Curt Hentschke of Gilroy said he first met Warner and Currie when he and his wife moved to the city in 1984.
He added that he really got to know the two owners in 1998, when he rediscovered cycling.
"Norm and Steve sold me my first mountain bike, then my first real road bike," Hentschke said. "They were very supportive of both my needs and goals. During my many visits to Sunshine, I soon discovered that's the way they treated every customer. There was never any pressure, never any up-selling, and never any looking down on the newbie cyclist. I always felt that I was being treated fairly and kindly. Of course, Norm and Steve made sure their employees did the same."
With rising rents, a shift in customers' habits to online sales, Currie's retirement in 2015, and Warner saying he's "not a youngster anymore," the time seemed right to close up shop.
"It's been a long time, 47 years, but it seems fast to me," he said. "It seems like practically yesterday."