The Christopher High offense struggled in its Blossom Valley Athletic League Mount Hamilton Division game against Santa Teresa High on Oct. 21.
But when it counted the most, the Cougars' offense delivered. Third-string quarterback Will Rizqallah came up clutch on Christopher's final two possessions, and its defense did what it's done for most of the season—producing stops in crucial moments—in a riveting 27-25 overtime win.
With the victory, the Cougars (7-1 overall) kept their league championship hopes alive as they are tied with Lincoln for second place with 2-1 division marks, a game back behind league-leader Live Oak.
"It's a great win for us and pretty emotional in how the game went," said Rizqallah, who took over for the injured Damiann Gomez midway through the fourth quarter. "You want to play in games like this and for us to come through shows we stuck together. I like how this team is like a family. We text each other, motivate each other and it shows on the field."
A standout outside linebacker and running back, Rizqallah was pressed into quarterback duties after Gomez—the backup to the currently injured starter Jaxen Robinson—got hurt in the fourth quarter. When told he was going in, Rizqallah immediately had flashbacks to his freshman year, when he served as the backup QB to Gomez on the junior varsity team.
Rizqallah got some reps at QB in the practices leading up to the Santa Teresa matchup, but they don't compare to a game situation. And having not thrown a live ball since his freshman season, Rizqallah's first pass was nearly—and should've been—intercepted, as the Santa Teresa defender simply dropped the ball.
On the very next play, Rizqallah threw a bullet down the middle of the field to Evan Vernon, whose body was fully extended as he dove into the end zone for a 35-yard touchdown. Talk about coming up clutch: it was Rizqallah's only completion and Vernon's lone reception of the game.
The play gave CHS a 19-16 lead with 1 minute, 30 seconds left in regulation, but the Saints showed some moxie as they marched down the field and hit a game-tying 39-yard field goal to force overtime. From elation to deflation, the Cougars won the toss and elected to take the ball on offense to start the OT session.
They needed just one play to score as Rizqallah—who finished with a team-high 56 yards rushing on six carries—ran it in from 10 yards out.
"I'd much rather play running back, but it's good that I can run the ball for these situations when I'm at quarterback," he said.
Rizqallah said he didn't do anything special on the final TD run, noting he received good blocking.
"You get the ball, you run hard, you make plays and that's what you do," he said. "There's no real secret to it. You just do what you're supposed to do."
After the touchdown, cornerback and holder Amari Bluford ran for the two-point conversion, which would prove crucial moments later when the Saints scored a TD on their OT possession. However, the CHS trio of Jack Swan, Danny Camileri and Jace Carrasco sacked the Santa Teresa QB on the two-point conversion attempt, sealing the outcome and setting off the Cougars' celebration.
Bluford's two-point run was not a design play. He had to take off because the snap was high, which often throws the rhythm off for the kicker. Either way, the Santa Teresa defense was left completely unprepared for it as Bluford ran to his left and reached the end zone without a defender within five yards of him.
The fourth quarter and OT periods were downright furious, as each team scored on all of its possessions. Canales converted a 36-yard field goal to give CHS a 13-9 lead with 10:15 left in regulation. Santa Teresa answered with a TD to retake the lead at 16-13.
On the ensuing kickoff, up back Steven Juarez returned it 50 yards which set up Rizqallah's TD pass to Vernon. Juarez was an unsung hero for CHS. The Saints took the game's opening possession and methodically marched down the field to score a TD.
But Juarez returned the ensuing kickoff 57 yards to set up a drive that culminated with Canales' 29-yard field goal. Juarez is an up back on kickoff returns and he made the Saints pay for their short kickoffs. Before going out with an injury, Gomez completed 9-of-16 passes for just 68 yards.
However, nearly half of those yards came on one completion, a 33-yarder to Jaterius Lee for the team's first TD with 6:29 left in the second quarter. Santa Teresa had a decisive advantage in total offense, outgaining CHS, 314-213.
It was a penalty-plagued game, with the Cougars being flagged nine times for 80 yards. The Saints were even more egregious, getting flagged 14 times for 110 yards. Vernon was a force defensively, totaling 15 tackles, including two for losses.
Ethan Robledo also had 15 tackles and Kenyon Hawkins finished with 10 tackles and two sacks. CHS plays host to Oak Grove on Oct. 27 before closing out the regular-season against Live Oak on Nov. 4.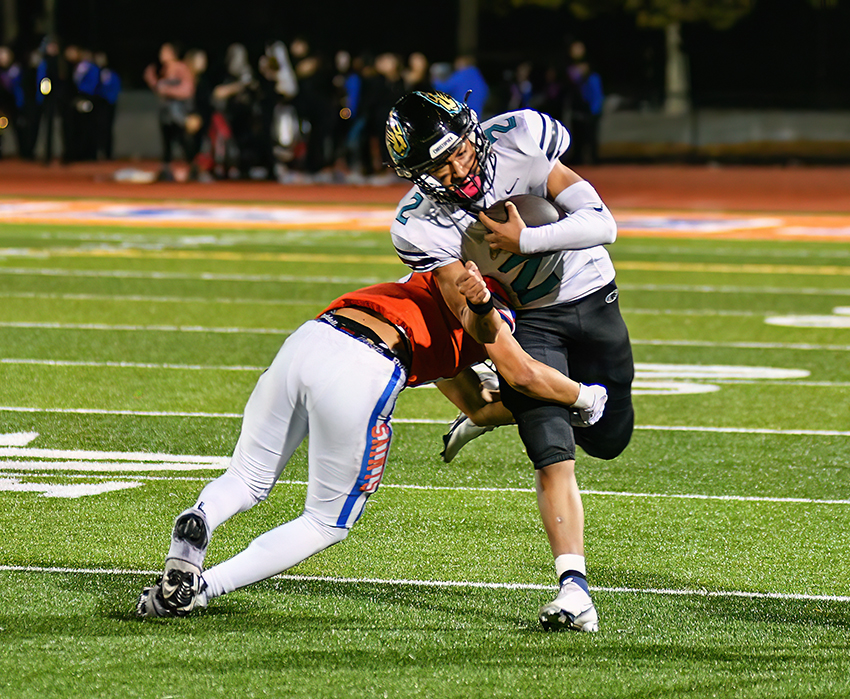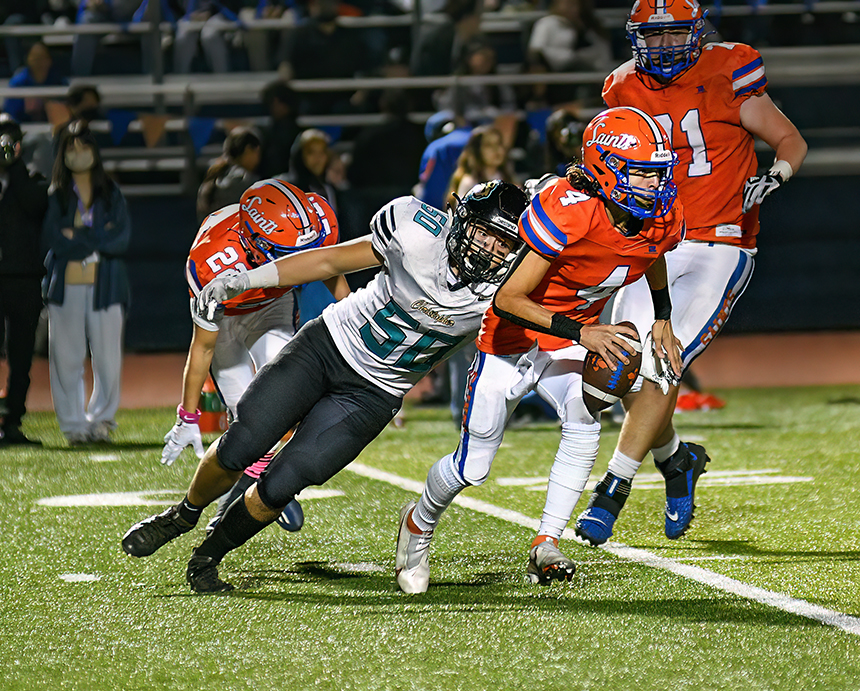 Sports editor Emanuel Lee can be reached at [email protected]