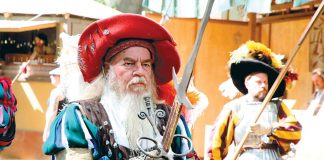 The Northern California Renaissance Faire will not take place this summer due to the ongoing Covid-19 pandemic, the event's general manager said in a July 1 press release.
In the early years following the 1906 San Francisco earthquake, California experienced a time of creativity, hard work and entrepreneurship.  With the Gold Rush long past, people looked for other ways to succeed—and some succeeded spectacularly!
Barbecuing a beef brisket – wonderful cuts available by the way at Rocca's Market in San Martin – takes about 10-12 hours to do it right, so you've really got a lot invested in time and technique. That's why I appreciated this line so much after smoking a brisket last weekend and then continuing to make what's known as "burnt ends" – tasty chunks of beef bursting with flavor. Alton Brown, Food Network Star and author of multiple cookbooks, nailed it: "Bimetal coil thermometers are about as accurate as a sniper scope on a nerf gun." So, if Dad likes to BBQ, a good instant read thermometer would be a great gift …
The multi-county partnership that was studying the possibility of making Highway 152 a toll road has broken up.
With cheering and applause from an audience topping 100, more than a dozen people voiced opposition to a toll road proposal last week in Los Banos.
Ever since Casa de Fruta planted their first vineyards and orchards in 1908, they've been growing. The third-generation Zanger Family welcomes everyone to enjoy their varietal wines and gourmet fruit wines with tasting daily from 9 a.m. until 6 p.m.
The possibility of Highway 152 becoming a toll road has some in the ag industry worried about what it would mean for business.
Plans to use money from Merced County to widen Highway 152 in neighboring areas and create a toll road to pay for it have drawn the ire of Los Banos Mayor Mike Villalta.