After the greatest season in program history in 2019, the Christopher High girls volleyball team fell on hard times.
First, the Cougars had to disband the team early in the 2021 spring Covid season due to a variety of factors. They didn't fare any better in the regular 2021 fall campaign, finishing 0-14 in league and winning just one game overall.
The program's fall was as swift as its rise in 2019 when it finished 25-4 and advanced to the CIF State NorCal Division III Regional Semifinals. This season the team is led by first-year Christopher head coach Brianna Calamia and assistant Sierra Gaeta, who work together at Morgan Hill Volleyball Club (MHVC) and decided to coach at the high school level for the first time in their careers.
"We had a couple of girls that we've had over the years for the travel team and we wanted to help them finish their senior years strong," Gaeta said. "It's redemption time."
Indeed, the Cougars have already exceeded their win total from a year ago, entering this week's play at 2-2 overall and 1-0 in the Blossom Valley Athletic League's Santa Teresa East Division. They swept Andrew Hill in three games—scores were 25-15, 25-22, 25-14—in a league opener on Sept. 22.
Calamia has a quality 14-player roster and used almost all of them in the win over the Falcons. Calamia said junior setter Madison Pierson and senior libero Sophia Filice are the heart and soul of the team, and it's easy to see why.
Pierson has a tremendous all-around game, directs the offense well and even led the team with seven kills. Most of them were off dumps, as she was crafty and caught Andrew Hill off guard with her precision and execution. Filice routinely passes well and provides leadership in the back row.
"I have so many girls who play with so much heart on this team," Calamia said.
Filice is one of nine returning players who was on last year's team, including Pierson, Brooke Sabala, Alex Yee, Cyann Cabana, Katelyn Rausch, Faith Zermano, Nathalia Javier and Samantha Atteberry. Sabala is a basketball standout and brings the same competitive drive and ferocity to the volleyball court with her defensive play in the back row.
Zermano, a dynamic middle blocker, was unstoppable whenever she went up for an attack, hitting for a high percentage. Fellow middle Rausch was also effective on the attack and at the net, finishing with a match-high five blocks.
Freshman sensation Hannah McGhie had five kills and led the team's potent service game with five aces. Sabala had three service aces as CHS finished with 15 for the match, an incredibly high number in just three games.
After the final point, the players on the sideline rushed the court, the team's joy and exuberance apparent.
From start to finish, the Christopher athletes played with a lot of energy and never relented in their shouts of encouragement for each other.
"Ninety-nine percent of the time, yes, at practice and everything," Calamia said, when asked if the team always played with the verve it did against Andrew Hill. "We're super positive and we like to have a positive team and give them everything we can."
The Cougars' revival has coincided with the arrival of Calamia and Gaeta, who have known each other since the fifth grade and played club volleyball together for most of their childhood and teenage years. They've coached the last three years together at MHVC, but teaming up together at CHS represents a unique opportunity.
"This is like our dream team," Calamia said. "We're very excited."
Gaeta said every game is an opportunity for the players to learn and improve and they've done just that.
"We take in every point and learn from them and move on," she said. "So we have a lot to look forward to at practice tweaking stuff and everything is able to be fixed and we're a better team for it."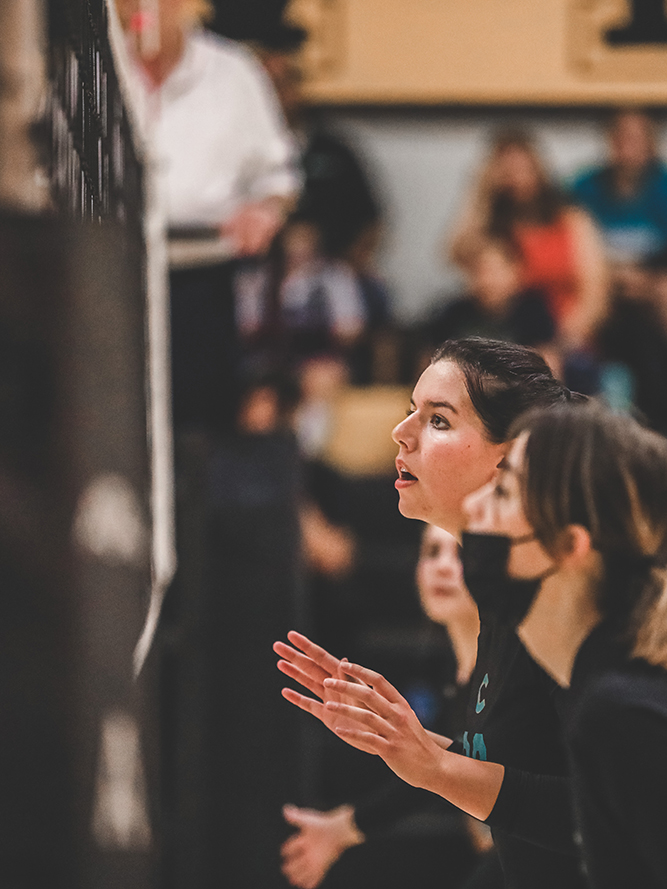 Sports editor Emanuel Lee can be reached at [email protected]