After the Christopher High boys basketball team produced an impressive 59-38 win over a solid Los Gatos squad on Dec. 23, first-year Cougars coach Adam Sax said he's hoping the team "can all be on the same page by February."
That's a scary thought for the rest of the competition in the Pacific Coast Athletic League Gabilan Division if Christopher hasn't come close to hitting its ceiling yet. Sax wasn't hired until after the traditional mini summer league season was over, which serves as a valuable time for coaches to get to know their players and implement some of their sets for the fall season.
"It's been so tough starting late and not having summer league so we're still in the thinking process right now as far as offense and defense, but we're improving everyday," said Sax, who had successful five-year stints coaching the boys hoops teams at Palo Alto High and Amador Valley High in Pleasanton before taking the CHS post. "I felt like I threw too much at them at the start and it was kind of overwhelming, so I cut down on some of the sets and defensive concepts and made it more simple so they don't have to think out there. It's a matter of time before we build that chemistry, and when February comes around, we should be a better product."
The Cougars (2-4) are in the midst of their best run in program history, having advanced to the Central Coast Section playoffs in each of the last four years. Two years ago, they reached a section title game and won their opener in the CIF NorCal playoffs.
This year's team has the potential to replicate that success. They're athletic, quick, physical and are sound on both ends of the floor. And yet they haven't come close to peaking, Sax said, so there's a lot to like about this CHS squad even though it has a sub .500 record.
That's because Sax purposely scheduled out of section competition against some ultra-tough teams—including Clovis West, the No. 2 team in the state—at the beginning of the season to prepare his players for league play and the postseason.
"My goal was to get out of Gilroy and play some of the top teams in Northern California," Sax said.
After winning its season opener on Dec. 1, CHS proceeded to lose four straight before beating Los Gatos for its first win in 22 days. The Cougars were coming off a 10-day layoff from basketball activities after a Covid exposure, injuries and "other stuff," all of which forced them to cancel three games in that span.
Not surprisingly, they looked fresh and jumped the Wildcats from the start, taking a 18-6 lead after the first quarter and a 32-12 lead into halftime. Returning senior starters Tobenna Ezeokeke, Rickey Becker and E.J. Yufenyuy will be key in the team's success. Ezeokeke and Yufenyuy are both powerfully built 6-foot-3 wing players, and they combined for 13 points in the opening frame.
Ezeokeke (18 points) got whatever shot he wanted, whether it was off dribble penetration or pulling up for jumpers at the right or left elbow area. Yufenyuy (13 points) used finesse and power to hit shots from around the paint, and Becker, after a slow start, heated up to score 11 of his 13 points in the second half.
Becker is the team's best 3-point shooter and brings experience and savvy to a team that is playoff tested. Jeremy Jacinto is another returning senior and possesses the ability to knock shots down from beyond the arc. Oakwood-transfer Bricen Buciak can also stroke it from the outside and passes well.
Starting 6-5 center Braddock Kjellesvig is just a freshman but plays beyond his years. He was strong on the boards, displayed some nice post moves and blocked a couple of shots and altered a few more against a physical Los Gatos team. Sax can also go to his bench for valuable minutes as Chris Naulls, Gurshan Nahal, Christian Kjellesvig and Tim McClain contributed to the win over Los Gatos.
Sax said while the team has taken some lumps in non-league action, it will only serve it better going forward.
"Playing those teams that were quicker than us really showed these guys what they have to do," he said.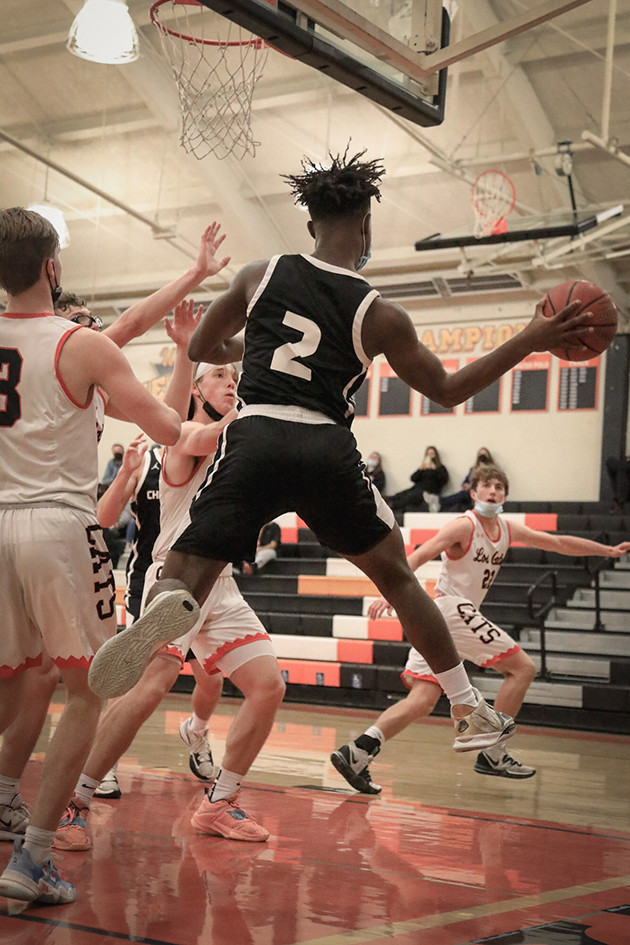 Sports editor Emanuel Lee can be reached at [email protected] and (831) 886-0471, ext. 3958.