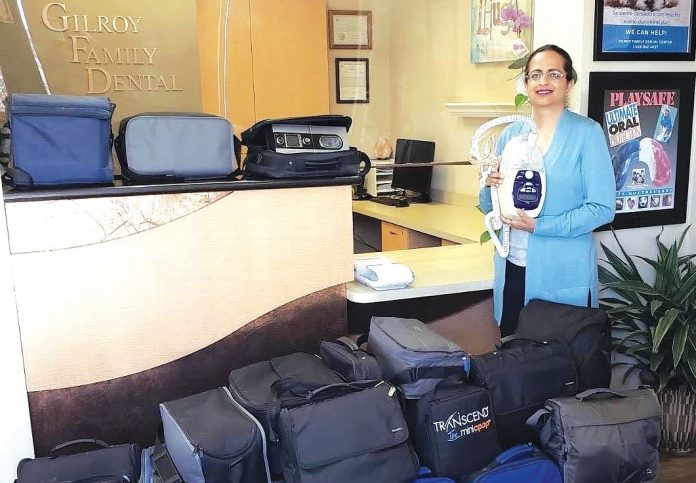 With potential vaccines still in trials, and the number of cases and deaths due to Covid-19 still rising, the fight against the novel coronavirus continues.
As an American Board of Dental Sleep Medicine Diplomate, Dr. Kusum Atraya of Gilroy Family Dental has found a way to help. She is collecting not-in-use Continuous Positive Airway Pressure (CPAP) and BiPAP machines from the community, which will then be used by volunteer organizations such as VentilatorSOS and The Ventilator Project to be converted into ventilators for those suffering from Covid-19 worldwide.
"I read about UCSF and Berkeley converting CPAPs into ventilators and respirators," Atraya said. "As a sleep specialist dentist, I treat patients with Sleep Apnea and Snoring with custom-made dental devices, so many of my patients have CPAP machines collecting dust in closets. Because the machines are difficult to get used to, patients often switch to oral appliances or stop seeking treatment altogether. So I thought there must be many more people in the community with unused units who might like to donate them to such a cause. My goal has always been to help people, so I thought this was the one thing I could do to give back to the community."
Atraya is urging patients who are not able to use their CPAP to consider donating these devices.
"If you are still using the CPAP device regularly as recommended by a physician, then please continue to do so, and do not donate your device," she said.
Those who donate their device will receive free consultation and $500 off an oral appliance, an alternative treatment for sleep apnea and snoring from Atraya.
In May, Atraya and her staff ran a collection drive and collected around 60 machines.
Atraya will be collecting these CPAP and BiPAP machines again at both of her offices in Gilroy, 1395 First St., Suite 102, and Morgan Hill, 18181 Butterfield Blvd., Suite 110.
Donors are advised to call before delivering their machine. For information, call 408.842.5037 (Gilroy) or 408.778.7700 (Morgan Hill).