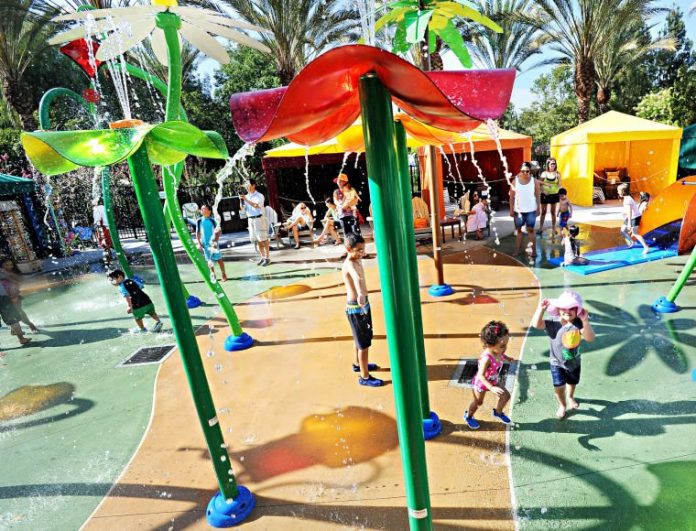 Kids splashed and played when the water was officially turned on at Gilroy Gardens' Water Oasis during a dedication and ribbon-cutting July 17.
The new $2 million attraction allows children to play and learn about plants and water conservation in three separate areas—Splashpad, Water Journey and Oasis Lagoon.
Gilroy Gardens Vice President and General Manager Barbara-Lea Granter thanked numerous people during the dedication, including park creator Michael Bonfante, who landscaped the area with circus trees and drought-resistant native plants, and the Don Chapin Company.
"We would not have been able to put this facility in, not this year, and I'm not so sure we would have made it if … Don Chapin himself had not stepped up and agreed to do this," Granter said. "This is a very complicated little half acre."
Each area offers interactive and hands-on activities for children. The Splashpad is a forest of oversize flowers and trees, which shower guests with water. Water Journey encourages kids to explore how water moves through waterways. Kids can then move on to the Oasis Lagoon—which has a maximum depth of 18 inches—where they can spray friends with water creatures and slide down water conduits. Officials said the attraction continues the environmental message of the park's closed micro-watershed system that cleans, recycles and reuses the water within its boundaries.
Mayor Don Gage said the new water attraction—which opened to the public July 19, just in time for Gilroy's summertime temperatures—will be a boon to the park and offered kudos to Gilroy Gardens' management and staff.
"There were some tough years … when the economy turned down, and a lot of people didn't believe this park could be successful," he said. "But this water feature was paid for by the park itself. It didn't take city money. They saved their money. They planned, and have more plans for the future."
Gilroy Gardens employs more than 700 kids during the summer months, with more than 350,000 visitors each year. Granter said the goal is to bring in 600,000 guests per year—a number in which Gage said he's confident.
"I believe with this new feature they're going to achieve that because it really adds to the park," he said. "If you look at any amusement park, every year they have something new because they want to change what people are seeing and what they're doing to attract new people."
"This is really entertainment for our community, for visitors to our community. And that has economic impact on Gilroy itself," Gage said.
The Water Oasis is set on a half-acre of the 536-acre theme park, and joins several other water attractions including paddle boating on Coyote Lake and the Splash and Squirt area.
"It was a team effort to get this done," Granter said.
For more information, and details about upcoming events, visit gilroygardens.org or call (408) 840-7100.