Rigo Bedolla works the late shift at Las Animas Elementary School, deep cleaning more than 30 classrooms and bathrooms nightly to make sure they shine and are ready to welcome hundreds of students the next morning.
When school officials called him in earlier than usual on March 18, saying they needed help moving something, Bedolla didn't think twice to offer his help, as is his nature.
Turns out, it was just a guise to get Bedolla on campus during a time when the entire student body was present. Over the school's intercom system, Bedolla was asked to come outside to the school's field.
As he made his way outside, he was surrounded by the entire school community, cheering him on and waving signs thanking him for his work.
Bedolla was visibly perplexed, until Gilroy Unified School District Superintendent Deborah Flores took the mic to unveil that he had been chosen as a finalist for the national Custodian of the Year competition.
The competition, sponsored by Cincinnati-based Cintas Corporation, recognizes the hard-working custodians from across the country. The winner will receive $10,000 in cash, $5,000 in Cintas and Rubbermaid products, and training valued up to $30,000.
But first, Bedolla must surpass nine other custodians in the United States, and it's up to Gilroy to put him over the top.
From now through April 15, the public can vote for Bedolla multiple times a day at custodianoftheyear.com.
Bedolla admitted that he was confused when he walked outside to the cheering crowd.
"I was not expecting this at all," he said. "It was a surprise."
He added that he is very dedicated to his job, and likes to do whatever he can to help the school function smoothly.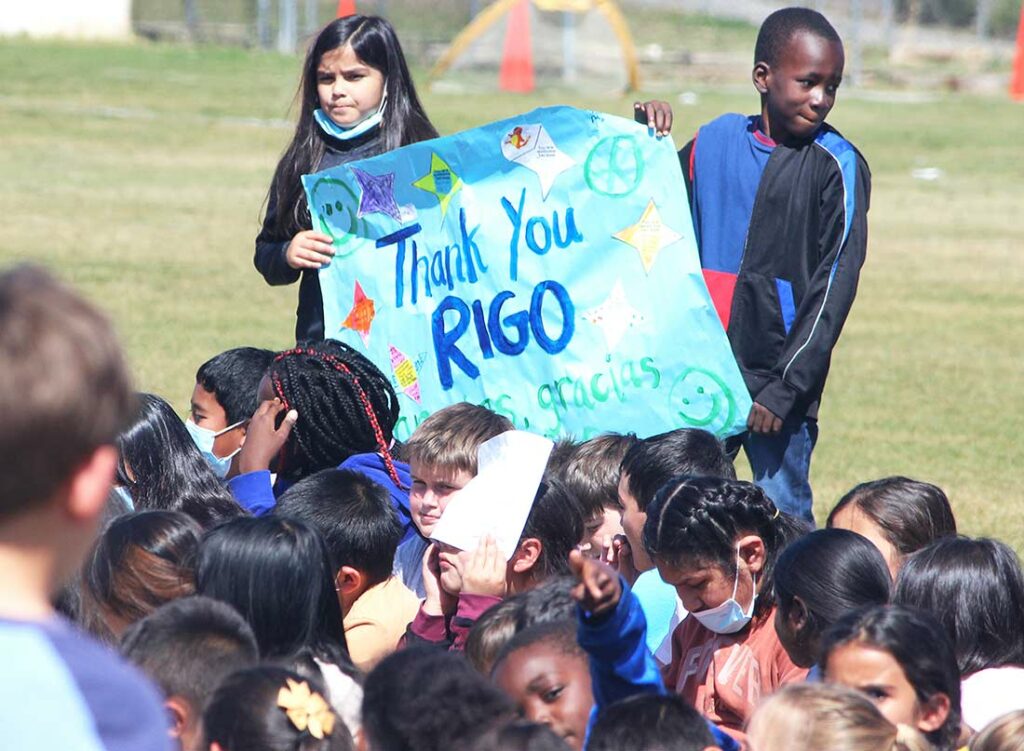 Christiny Betsch, marketing manager at Cintas, said the company received more than 2,200 nominations from across the country.
"It was a challenge to narrow it down to only 10 finalists," she said. "This contest continues to prove that custodians play a significant role in school communities across the country and have lasting, positive impacts on students and staff."
Isabela Telles, who works as a senior staff secretary for GUSD, coordinated the nomination process, getting the entire staff at Las Animas involved.
"I'm just over the moon that he got selected for the top 10," she said. "There's no one that deserves this recognition more than Rigo."
Prior to working in the district office, Telles was the office coordinator at Las Animas, where she worked with Bedolla on a daily basis, saying he was always willing to put in the extra work even when his schedule was overflowing.
"Rigo is a hidden gem and I feel that the world needs to know about him," she said. "He is definitely one of the hardest working people I have ever known."
Flores said the past two years have been especially difficult for custodians such as Bedolla, who have had to take on even more cleaning duties to help stop the spread of Covid-19.
"He's not just a wonderful custodian, but a wonderful person," she said. "Everybody that works with him just adores him. He never once complains, he just does whatever is needed. We're really proud of him and we hope everybody votes."