The Gilroy Unified School District celebrated its longest-serving superintendent on June 3 as she prepares to retire, unveiling the newly renamed Dr. Deborah Flores Student Center at Gilroy High School.
Deborah Flores, who has led the district for 16 years, will retire on June 30, she announced earlier this year. Anisha Munshi was selected as the next superintendent.
Flores, who began her career in Western Massachusetts in 1975 as a special education teacher, was hired as superintendent by the Gilroy school district in 2007.
Since joining the district, Flores said her mission was to reduce the dropout rate, increase the graduation rate, increase academic performance for all subgroups and close the achievement gap for students in Gilroy. Steady progress was made on all these indicators and many more until the district and nation were immersed in the Covid-19 pandemic, according to district officials.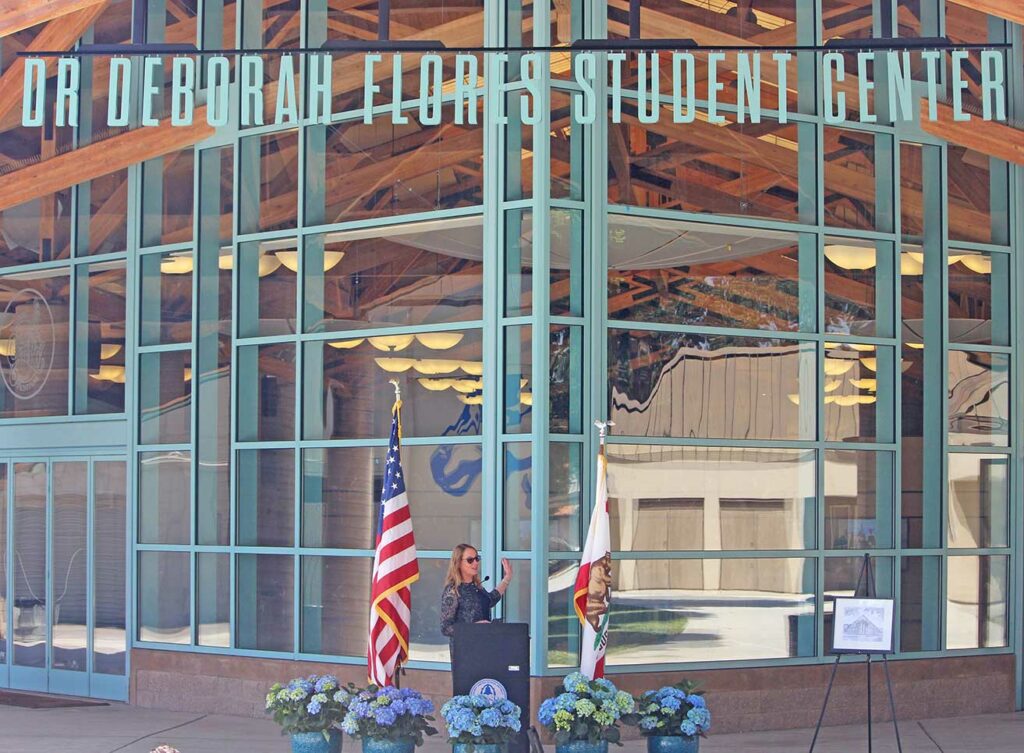 Board of Education President Linda Piceno said Flores led the district through some challenging times over her years, including economic downturns, mass shootings at schools throughout the nation, and the pandemic-induced shutdown of schools.
Flores also worked to gain the support of Gilroy voters for two bond measures, which led to the completion of hundreds of millions of dollars in renovations at most schools in the district and new construction at Christopher High School, Brownell Middle School and South Valley Middle School.
"Our district and our community have been very fortunate to have had Debbie's 16-year leadership," Piceno said. "The most important thing she instilled was the unwavering belief that all students can learn, and it is our responsibility to make that happen."
The June 3 ceremony at Gilroy High School included a performance by the school's choir and treats made by culinary students. Flores was also presented with a commendation plaque from County Superintendent of Schools Mary Ann Dewan, as well as an REI gift card from the Board of Education, a nod to Flores' affinity for backpacking.
"I really appreciate it," Flores said. "I never expected it, and it didn't even enter my thinking that a building would be named after me. It means so much. I've loved this job for 16 years. It's going to be hard to leave, but I am so ready to be retired."