Editor's note: Biographical information provided by the Gilroy Chamber of Commerce.
The Gilroy Chamber of Commerce celebrated the honorees of its annual Spice of Life Awards on Aug. 26 at Fortino Winery.
The dinner event included live music by The Soft Lights, wine by Fortino Winery and plenty of friendly jabs at Mark Turner, the chamber's former CEO who was recognized as Man of the Year.
Joining Turner in being honored were Woman of the Year Jane Howard, Large Business of the Year Nissan of Gilroy, Small Business of the Year One Life Prints, Educator of the Year Michelle Anderson, Volunteer of the Year Mike Brownfield, Non-Profit of the Year Latino Family Fund, Young Professional of the Year Mark E. Jacobsen and Susan Valenta Youth Leadership Awardee Alexandra Beyret.
Woman of the Year: Jane Howard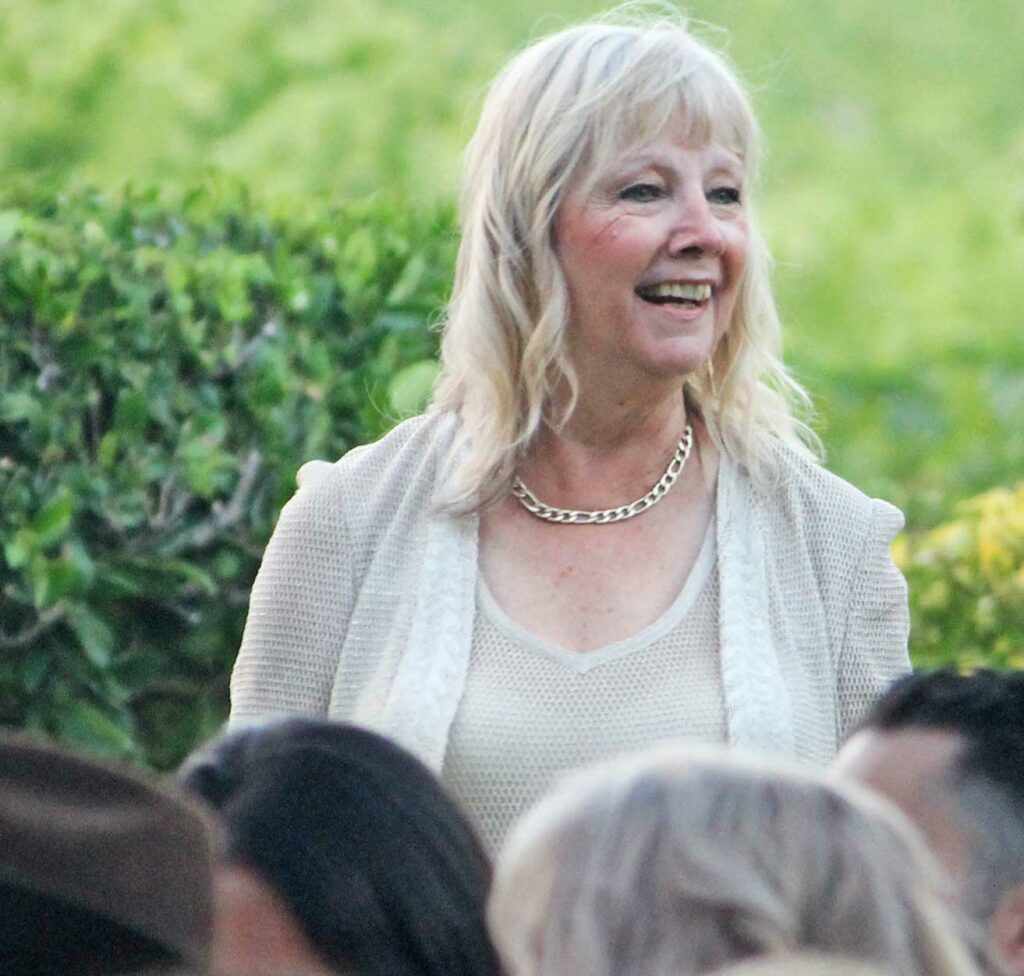 Jane Howard retired in 2022 after serving as executive director of Visit Gilroy for 17 years.
During her time with the organization, she led the development and implementation of the city-wide wayfinding sign program, established the Gilroy Tourism Business District to secure funding for promoting the city as an overnight destination, relocated the Gilroy Visitors Bureau to the Gilroy Premium Outlets, rebranded the organization as Visit Gilroy, and completed the designation as one of 21 California Welcome Centers in the state.
In addition, she co-founded the Gilroy Economic Development Partnership with Mark Turner.
Over the years, Howard has been involved with many different organizations, including being a Gilroy Unified School District trustee, Gilroy Rotary president, Gilroy Garlic Festival director and more.
"Giving back is the natural outcome when having the opportunity to work with so many individual people and organizations over the years," she said. "I am blessed to have been one of many contributing to improving the quality of life for the Gilroy community and visitors to our destination."
Man of the Year: Mark Turner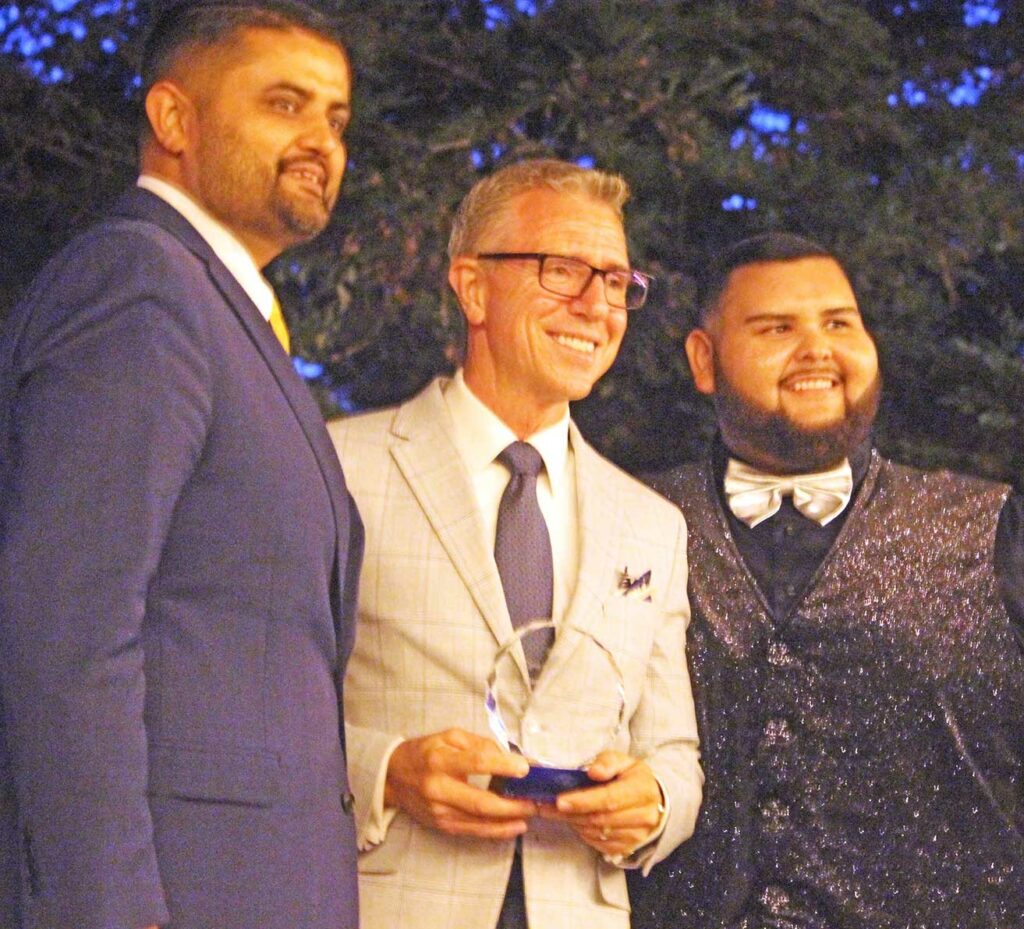 Mark Turner, who was elected mayor of Morgan Hill in 2022, served more than nine years as CEO of the Gilroy Chamber of Commerce.
Prior to joining the chamber, Turner was an associate pastor at South Valley Community Church for 11 years. While there, he launched the Upward Sports program which included flag football, basketball and cheerleading, and started the Bread of Life program in partnership with a local grocery store which provided various food items that volunteers delivered to South County residents.
Working alongside Jane Howard, they developed the Gilroy Economic Development Partnership that brought together six other organizations including the Gilroy Economic Development Corporation, Gilroy Gardens, Gavilan College, Gilroy Downtown Business Association, Gilroy Garlic Festival and the City of Gilroy.
In 2014, Turner launched South County's effort for Wreaths Across America. For the last nine years, he has raised more than $18,000 per year in order to place a Christmas wreath on each of the more than 1,200 veterans' graves located in Gilroy and Morgan Hill.
Large Business of the Year: Nissan of Gilroy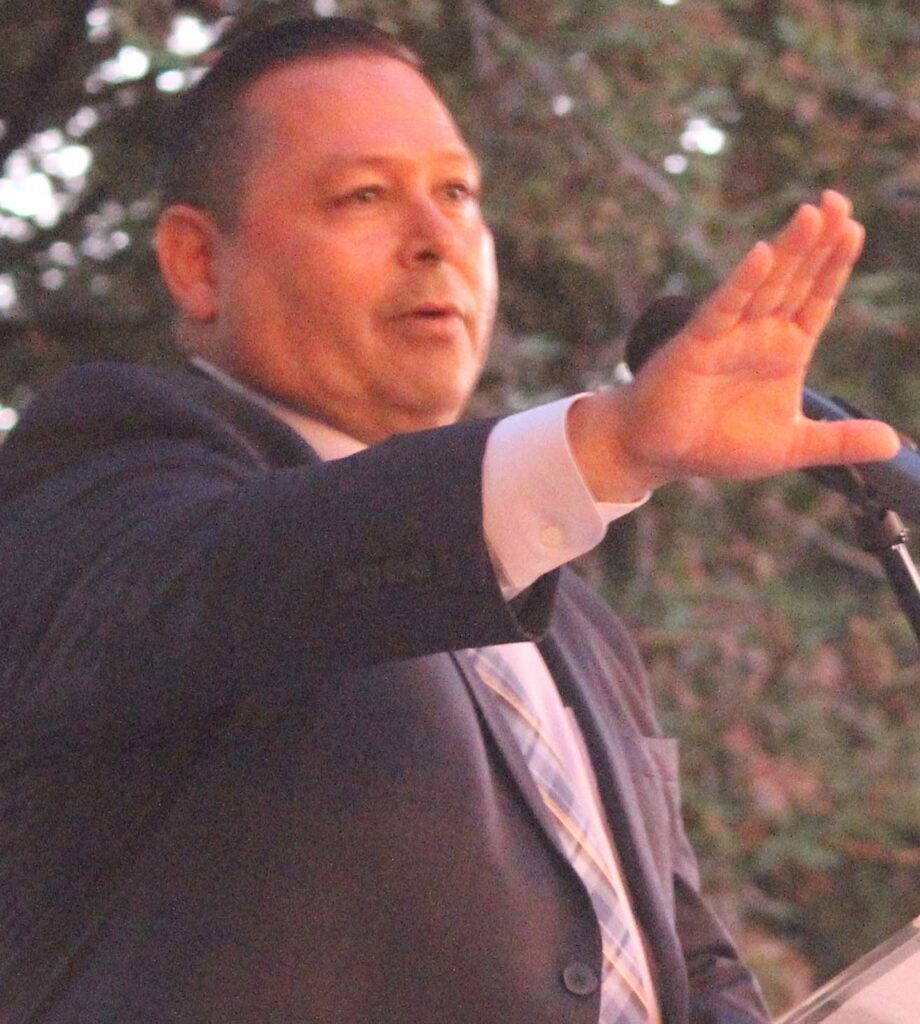 Nissan of Gilroy opened its new facility at 6807 Automall Parkway in 2021.
Over the last three years, Nissan of Gilroy has provided grants to local community organizations through the Groppetti Automotive G For Kids Foundation. It continues to support local organizations such as Rebekah Children's Services, Gilroy After Hours Rotary, Mt. Madonna YMCA, Leadership Gilroy and more.
"Monetary donations are good, but being involved in the community is just as important," General Manager Brian Verdin said. "I am grateful that Don and Shelly Groppetti have allowed me to be involved in the great community of Gilroy."
Small Business of the Year: One Life Prints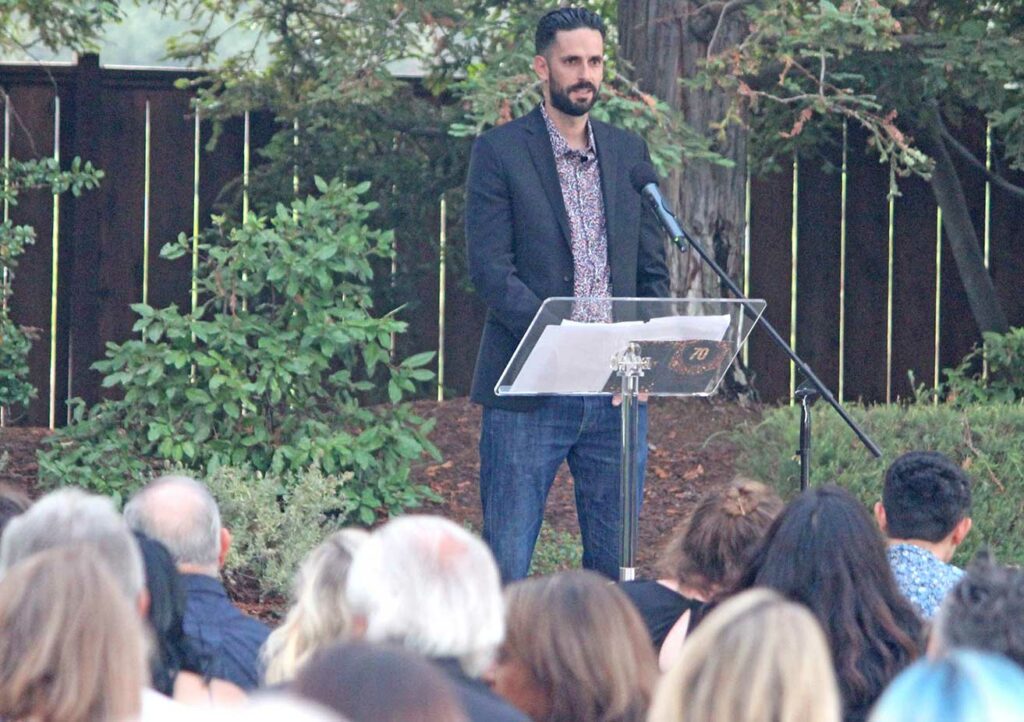 One Life Prints has been part of the Gilroy community for 17 years, and the business and its president Travis Graham have been involved in many local projects.
In 2019, One Life Prints raised $36,242 that went to the Gilroy Foundation in support of the Gilroy Garlic Festival shooting victims. It hosts an annual golf tournament at Gilroy Golf Course that raises funds for local nonprofits, including the Latino Family Fund, Kneaded Bakery and Unravel Pediatric Cancer.
Educator of the Year: Michelle Anderson
Michelle Anderson is a teacher at Glen View Elementary School, and has taught for 35 years,19 of which for Gilroy Unified School District.
She graduated from Phillips University in Enid, Okla. with a bachelor's in Business Administration and a concentration in Economics, and then received a master's degree in International Political Economy and Development from Fordham University in the Bronx.
Anderson is a volunteer for the Gilroy Garlic Festival and the Gilroy Rodeo, and is also involved in the Lutheran Church of the Good Shepherd of Gilroy.
Firman B. Voorhies Volunteer of the Year Mike Brownfield
Mike Brownfield was the owner of Vacuum Center of Gilroy for more than 43 years.
He has been active helping with downtown and Gilroy events for many years, from cleaning sidewalks to pouring beer at the Garlic Festival. He began helping out with the downtown car show 18 years ago, and was instrumental in bringing national TV host Dennis Gage to the event in 2019.
Non-Profit of the Year Latino Family Fund
The Latino Family Fund was established in 2006 through the Gilroy Foundation.
Since its inception, it has contributed more than $71,000 to local organizations. Its donor-advised fund expanded from $10,000 to more than $230,000.
The Latino Family Fund supports various community needs including Cal-SOAP, local schools and programs assisting adults and families, particularly within the migrant population.
The fund also has a Youth in Philanthropy program that engages mentors and students from Gilroy's public middle schools.
Young Professional of the Year Mark E. Jacobsen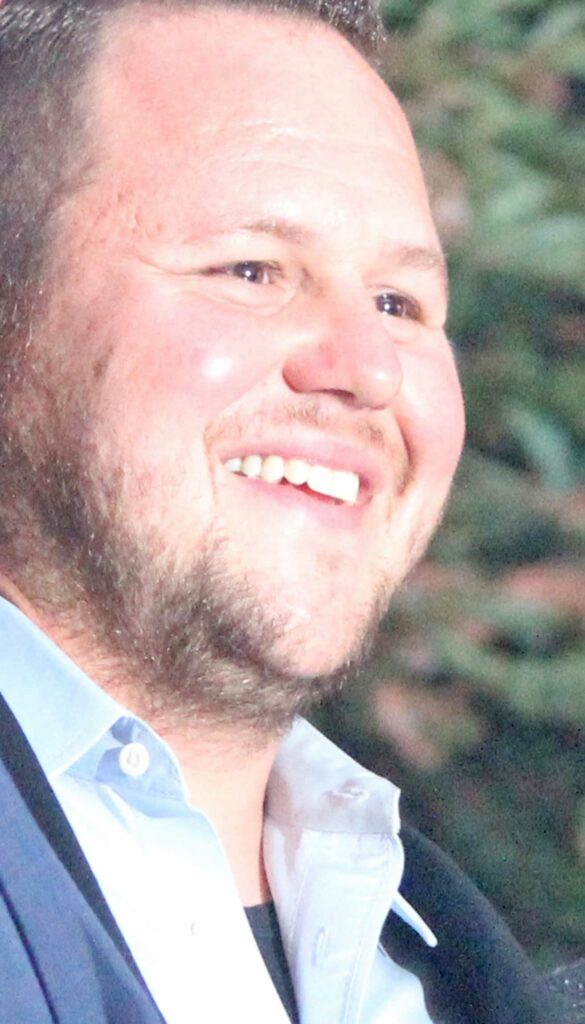 Mark Jacobsen became the youngest member of the Gilroy Chamber of Commerce in 1999 at the age of 9.
He went on to receive the Volunteer of the Year award in 2009 serving countless volunteer hours, many of which were spent helping put on the Gilroy Garlic Festival.
In 2022, Jacobsen opened Poki Bowl in Gilroy, and has continued to give back to the community by participating in and donating to events that support organizations and schools in Gilroy.
Susan Valenta Youth Leadership Award: Alexandra Beyret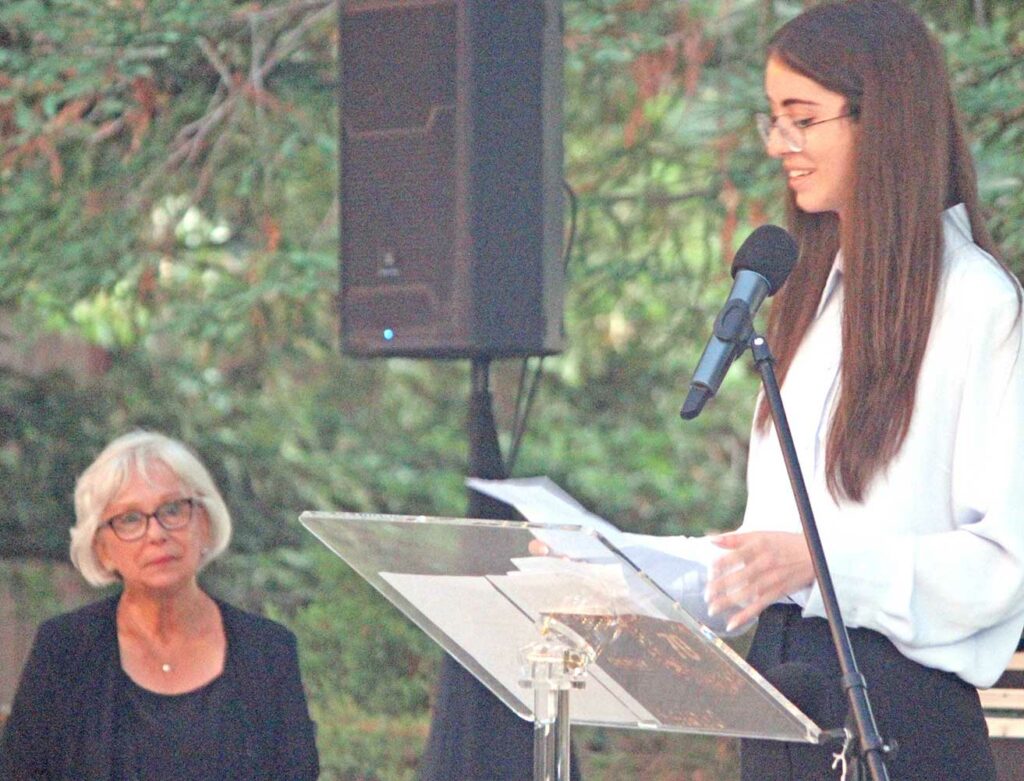 Alexandra Beyret is a 2023 graduate of Dr. TJ Owens Gilroy Early College Academy.
While at the school, she was the GECA GUSD Board representative and a member of GECA's Honors Tribunal. She is also involved in Gavilan College, from her work as a STEM tutor to being currently the only GECA officer in Gavilan's Associate Student Body.
Beyret also served as a commissioner on the Santa Clara Mental Health in Schools Youth Advocacy Commission.
She plans to pursue her passion for advocacy and public policy, as well as mathematics, by double-majoring in economics and mathematics.