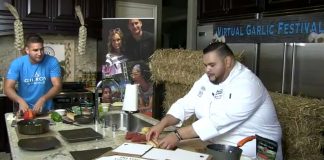 Covid-19 may have halted plans to host the Gilroy Garlic Festival this year, but it doesn't mean Gilroyans can't bring the tastes...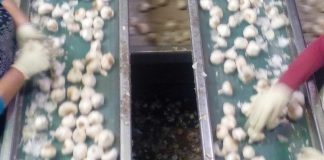 Garlic production temporarily shut down in one building at Christopher Ranch after an employee tested positive for Covid-19 at the end of...
Christopher Ranch in Gilroy welcomed a decision by President Donald Trump to increase tariffs to 25 percent on $200 billion worth of...
Breaking away from the position of many U.S. farmers, Christopher Ranch, the nation's premier garlic company, announced on Tuesday, Sept. 18, that...
What started in 1979 as a small community food festival centered on the small, stinky, cousin of the onion has since turned into a...
South County is weathering an unprecedented labor shortage alongside hundreds of other agricultural communities across California. The pinch is forcing some growers to raise their prices as competition for workers increases, and some have even decided to sell their operation to larger companies.
Eight made the cut. One will win the crown. Meet your 2012 Gilroy Garlic Queen contestants – in no particular order.
It's about 2,263 miles from Gilroy to Nashville, TN. That seems like another universe when you get a call from your daughter who's in college telling you she's been hit by a drunk driver in a car accident. Cayla's OK, fortunately, getting over the sore and scary parts, the sirens, the ambulance and the late-night visit to the hospital. They arrested the guy on the spot. The officers told him to take his cowboy boots off before walking the line, he staggered around, fell, tossed the boots and failed, Cayla said. She had been studying for a pediatrics nursing test at a coffee shop and headed home when he smashed into her. Hug your kids, call them, tell them you love them and try to remember that life can change in an instant.
The Gilroy High School Athletic Association will host its 32nd annual Crab Cioppino Feed, Dance and Auction at 4:30 p.m. May 12 at Christopher Ranch at 305 Bloomfield Avenue in Gilroy. This popular event attracts people from throughout the Bay Area – approximately 1,000 attended in 2011.