When he was 9 years old, Rubén Darío Villa experienced a rite of passage: his mother, handing him some cash, tasked him with going to the grocery store to buy some tortillas.
Villa, however, thinking he was "slick," decided to seize the opportunity to get his hands on some Flamin' Hot Cheetos, the cheesy snack that was banned from his healthy-eating household. He devised a plan to buy the tortillas on one transaction and the Cheetos on the other, so his mother wouldn't see the evidence on the receipt.
But the nerves set in when Villa stepped up to the cashier, and he forgot about the multiple transactions. Frantic, he tried to smudge off the purchase on the receipt.
The trip took longer than expected, and Villa was caught by his mother who came looking for him.
It's a story the family often repeats, and has forever tied Villa to Flamin' Hot Cheetos.
Now, the Gilroy artist has deepened his connection to the snack, curating "Flamin' Hot," a new group exhibition now on display at Gallery 1202 at 7363 Monterey St.
The exhibit features the work of 26 artists, who hail from Gilroy, San Jose, Hollister, Watsonville and surrounding areas, all celebrating their love for the snack that has become a pop culture icon.
Villa said all the artists have some nostalgic connection to Cheetos that are highlighted in the mixed-media show.
The show is about "celebrating the things that made us smile when we were growing up," Villa said.
"It's very much a nostalgic connection," he said. "A lot of the artists share that feeling."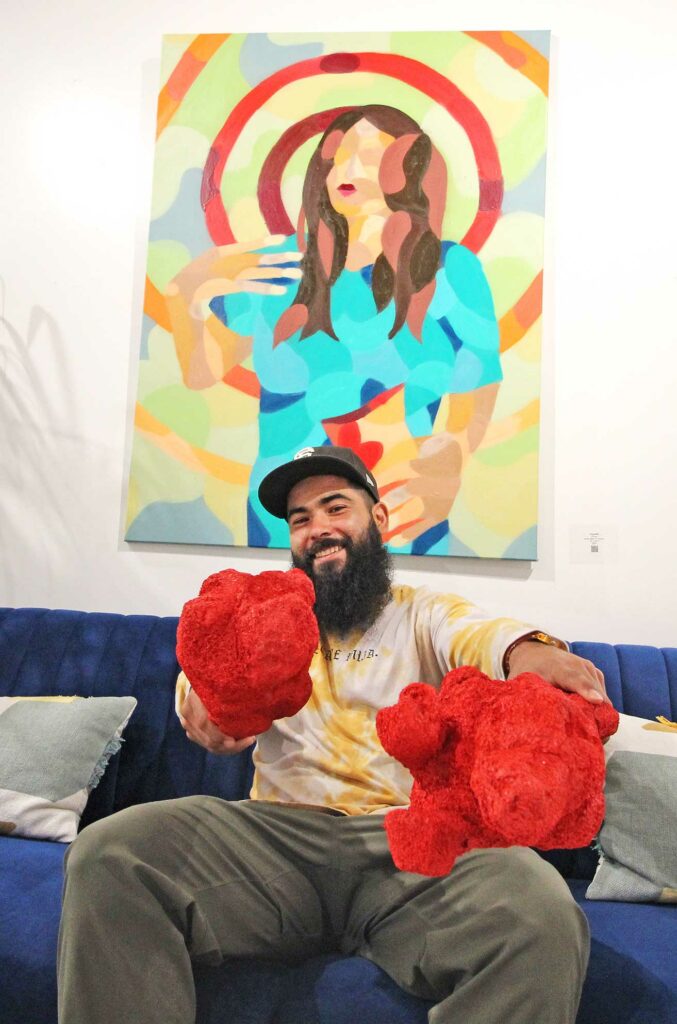 There is the piece of lined paper hanging on the wall with math equations by Berenice Hernandez-Baltazar that is stained with Cheetos-laced red fingerprints, while Zoa Lopez's "corazón quemado" resembles a flaming heart made from Cheetos.
Villa's aptly named "Hot Ass" is a donkey piñata made from Hot Cheetos, a project he described as "quite an undertaking" that included painstakingly selecting each individual chip from six large bags and gluing them together.
Flamin' Hot Cheetos is currently having a moment.
The "Flamin' Hot" movie was released June 9 on streaming platforms, based on the story of Richard Montañez, a Frito-Lay janitor who turned into an executive that popularized Flamin' Hot Cheetos with Latino consumers.
The timing was fortuitous for the Gilroy exhibit that wasn't even an idea less than two months ago.
Villa said he got a call from Gallery 1202 founder Emily McEwan-Upright about six weeks prior to the exhibit's opening, asking him if he was interested in curating a show for the gallery after a planned exhibit for the time slot fell through.
Villa, who at the time was creating his Cheetos piece, immediately took her up on the offer and pitched the idea of an exhibit centered around the spicy snack.
The response from Villa's call to artists was overwhelming, and the amount of interest he received more than doubled his expectations. All of the pieces except for one were specifically created for the show in a short amount of time.
Villa said he has tasked himself with keeping the energy going with the show through its closing date of Aug. 12. On July 21, the exhibit will be part of the Third Friday Art Walk in downtown Gilroy, and Villa said he is working on getting young people interested in checking out the show.
During the event, performers and vendors will be present at the gallery for a night of entertainment geared toward youth.
Villa, who was raised in Gilroy and has lived here most of his life, serves on the city's Arts & Culture Commission and as chair of the Gilroy Arts Roundtable, which meets monthly to promote the arts locally.
Following his graduation from Santa Clara University, Villa and his wife lived in downtown San Jose, but he found it difficult to get involved with the arts scene there, so they moved back to Gilroy.
"Why not just create the arts and culture scene I want to see in Gilroy, versus trying to chase it in San Jose?" Villa said. "That's the impetus of everything I do."
Gallery 1202, 7636 Monterey St., is open Tuesday through Friday from 10am to 4pm and Saturday from noon to 6pm. For information, visit gallery1202.com/show/gallery-1202-flamin-hot-i.