Gilroy High's two distance aces—seniors Nicholas Guzman and Karina Rodriguez—have achieved their dreams of signing to run at the four-year level.
Stalwarts for the Mustangs' cross country and track and field teams since their freshmen year, Guzman and Rodriguez were overcome with emotion as they did a letter of intent signing ceremony at the Gilroy High track on March 25.
Letter of intent signings tend to be packed with emotion, and this one was no exception. Rodriguez had already signed her official letter of intent in December, but that was done at her dining room table with little fanfare. The March 25 event put on by track and field coach Thad Moren—who has created a buzz around the program—was done in front of a much bigger audience that included family and friends.
"It was definitely a really exciting and overwhelming moment in my life," said Rodriguez, who will run cross country and track at George Fox University, a Division III program in Newberg, Ore. "It was nice to get the full experience with more of my friends there. I loved the experience because it made everything so much more real."
Guzman, who will run cross country and possibly track at Chico State, echoed similar sentiments. Because Guzman had waited to sign the official letter of intent for this occasion, the moment was a rather tense one—in a good way.
"It was probably the most nerve-wracking piece of paper I've ever had to sign in my life," he said. "You don't often sign papers in front of a lot of people so that added to being nervous. It was also exciting because I can't wait to go run in college. The coach is great, the team is really good and I'm just stoked for the opportunity."
In Chico State, Guzman will be competing for one of the top Division II cross country programs in the nation.
"They are a top two program in the West Region, and I knew that's the school I wanted to go to," Guzman said. "My main goal was to go D1, but I'm not quite at that level yet. So a high D2 was a better option for me."
Guzman is coming off a tremendous senior season in which he finished third in the Division II race of the CCS Championships and 30th in the CIF State Championships. Rodriguez also had a terrific cross country season, winning the Pacific Coast League title and placing 14th in the CCS Championships.
They've been guided by Art and Cathy Silva, the longtime GHS cross country coaches. Rodriguez had never heard of George Fox until coach Mike Wilson reached out to her through a recruiting website.
Wilson had been keeping tabs on Rodriguez's times and once she approached her personal-record time on the track last spring in the 800 meters—something she hadn't done since her freshman year—that's when things really got rolling in the recruiting process. Rodriguez visited the George Fox campus last July and was set to commit until she said Division I program San Jose State contacted her in September or October.
That made things a bit more complicated because Rodriguez had come away from her visit to George Fox tremendously impressed both with the team and computer engineering program, her major of choice. She went back and forth for a month before making a decision.
"The San Jose State coach got in contact with me at the beginning of cross country season, and it's something I'm incredibly grateful for and it was such an honor to be noticed by a D1 coach," Rodriguez said. "But when it came down to it, George Fox felt more correct when I visited. I fell in love with the area and throughout the entire process, they made me feel like I was a very valuable asset to their team."
The signing was a milestone moment for Guzman and Rodriguez for a variety of reasons.
"There's the 7-year-old inside of me that decided I was going to run forever that is bursting out with joy just because it was always a dream of mine to be able to run in college, and to be given that opportunity is everything," said.Rodriguez, who carries a 3.87 GPA. "To pursue higher education and continue to do what I love doing with running is definitely a huge moment."
Rodriguez and Guzman appreciated Moren for working hard to organize the event. Guzman's mom, Kim, decorated her son's backdrop for the signing ceremony which made the event feel particularly special.
"My mom came with the decorations and it was just so cool coach Thad put the whole thing together," Guzman said.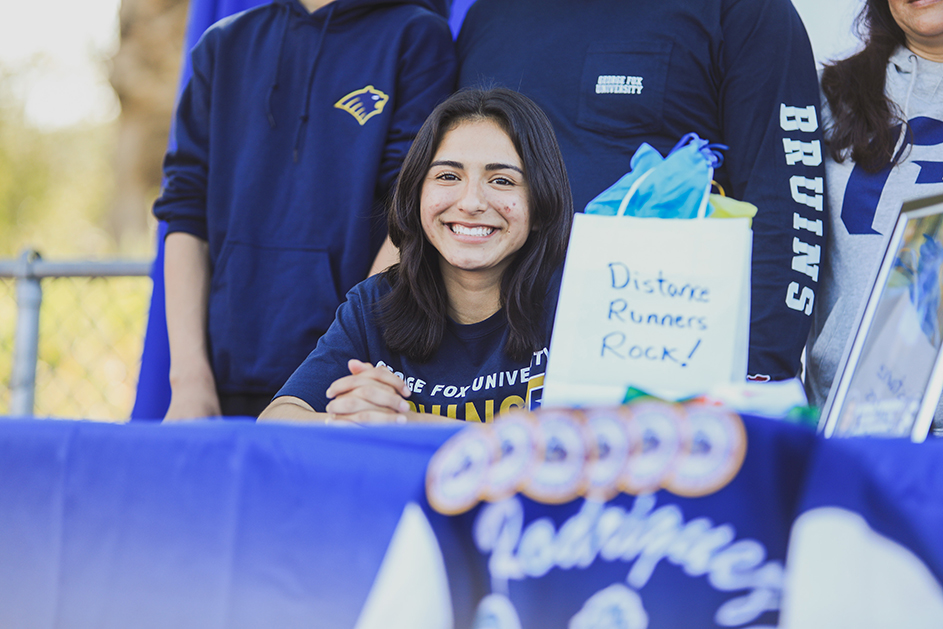 Sports editor Emanuel Lee can be reached at [email protected]