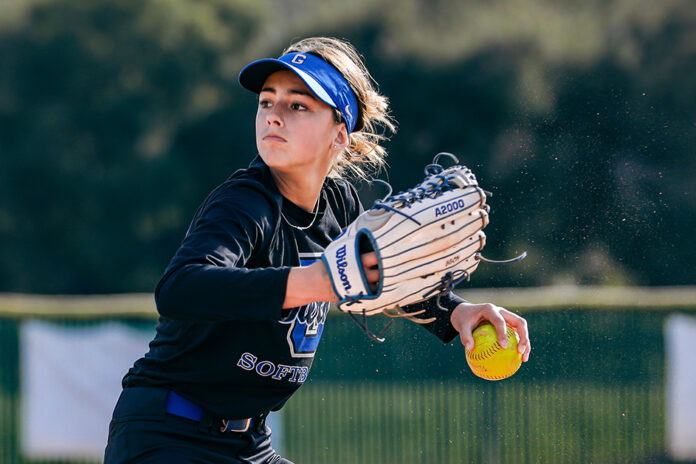 Gilroy High softball coach Dusty Lester said if the team's hitting starts coming around, another upper league finish is possible.
So far, the Mustangs' bats haven't come around, though it's still early in the season.
"We haven't hit yet, not like this team is capable of," Lester said.
The Mustangs, who entered the week with a 1-3 record, suffered a big blow when junior shortstop Addie Hulbert was lost for the year due to an injury suffered during basketball season. Fortunately for Gilroy, it does return a handful of starters off last year's team, including sophomore pitcher Lela Yslava, who was an absolute workhorse in 2022.
"She was basically our only pitcher last year," Lester said. "She threw double [the innings] what anyone else in the league threw and made first team all league. She hit really well, too."
Gilroy will have some reinforcements in the circle this season with the return of sophomore Xochitl Garcia, who was injured last season. Garcia has an effective pitching repertoire and can play the infield as well.
"Xochi[tl] hasn't gotten her swing back yet, but she's throwing well," Lester said.
Another sophomore, Dani Wilson, is a returning starter who hits leadoff and has proven to be the team's spark plug, Lester said. Sophomore Jennie Hernandez has hit second and moved from third base to shortstop with the Hulbert injury.
"Jennie is doing a good job and our defense has been pretty good," Lester said. "But losing Addie's bat hurt us, too, because she hit well for us last year."
The Mustangs have two tremendous catchers in returning sophomore Bam Mendoza and sophomore Andrea Alvarez, a Silver Creek-transfer. The two will share catching duties and whoever isn't behind the dish will likely play third base.
Sophomore utility players Jocelyn Ta and Leilany Martinez have worked their way into the starting lineup and Aaliyah Cordova—one of just three seniors on the team—is one of the top returning outfielders.
The other seniors, Cat Correia and Tiana Herrera, will contribute nicely as utility players. Junior outfielder/designated hitter Jazmine Gonzalez and sophomores Caitlyn Correia and Bella Sousa figure to be difference-makers as well.
Lester scheduled ultra-tough non-league competition again, including games with St. Francis, Mitty and Hollister (twice). The Mustangs have switched leagues from the Pacific Coast Athletic League's Gabilan Division to the Blossom Valley Athletic League's Mount Hamilton Division.
They're aiming for an upper-tier finish in a division that includes Branham, Leland, Live Oak, Pioneer, Santa Teresa, Westmont and Willow Glen. On March 25, Gilroy is hosting Christopher in the second annual Sarah Villar Memorial Game, in honor of the former GHS standout who was tragically killed by a drunk driver as she was walking with her fiance along Sunnyslope Road in Hollister in June 2021.
"It was really emotional last year as we got all of the Villars to come in along with old teammates and friends," Lester said. "We hung that banner on [the right-field] wall so she's never forgotten here. We set up a scholarship fund last year and we'll have a memorial type setup during the game honoring her. She was a great kid and we all miss her."