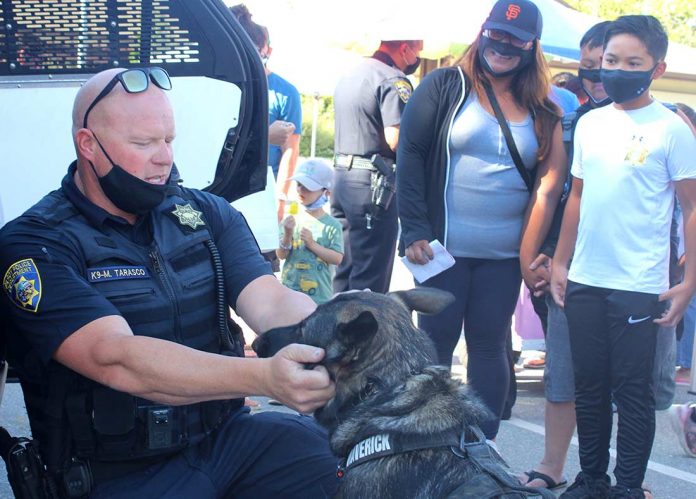 Hang out with police officers
The Gilroy Police Department is inviting the public to a meet-and-greet over ice cream on Aug. 2 from 4-7pm at 7301 Hanna St.
During Ice Cream with a Cop, officers will be present to meet, talk and eat ice cream with children, youth and adults.
Cultural exchange organization welcomes new coordinator
International Cultural Exchange Services welcomed Frank Patterson as a new local coordinator.
ICES is an international nonprofit student academic and exchange organization dedicated to promoting a peaceful world by increasing international awareness and cultural understanding. Patterson lives in South Santa Clara County.
"I was an exchange student in both Venezuela and Mexico," said Patterson, who is a retired pharmaceutical medical device executive. "I'm excited to work with exchange students because I very much enjoy promoting peace and understanding in our community. I was an exchange student in both high school and college. I went to San Luis Potosí, Mexico in high school and Caracas, Venezuela in college. I met my wife in Venezuela and we have been married for 40 years. I owe my wonderful marriage to being an exchange student. Working with exchange students is a wonderful way to encourage diversity and cultural understanding."
Patterson will be working with families and schools in Gilroy and in the surrounding area. He is currently looking for families that would like to host for the school year of 2022.
Exchange students live as a member of the host family—not a guest or boarder. They participate in family activities, follow host family rules, and help with chores. Students have their own medical insurance and spending money to cover all personal expenses; host families provide room and board and parental guidance to the student.
For information about hosting or working with ICES, contact Patterson at [email protected].
Gilroyans graduate from Stanislaus State
For the 2021-22 academic year, Stanislaus State recently recognized 3,130 graduates and 306 credential recipients.
Two Gilroyans were among the Class of 2022:
• Laura Lopez graduated with a degree in Criminal Justice.
• Isaac McCrimon graduated with a degree in Business Administration.
California State University, Stanislaus serves a student body of more than 10,000 at two locations in the Central Valley.
Hu receives degree from Georgia Tech
Kai Hu of Gilroy has earned a Master of Science in Computer Science from the Georgia Institute of Technology in Atlanta.
Hu was among more than 4,500 undergraduate and graduate students to be presented Georgia Tech degrees during the Institute's 262nd Commencement exercises May 6-7.
Engquist named to the University of Hartford's Dean's List
The University of Hartford announced Elise Engquist of Gilroy has been named to the Dean's List for Spring 2022.
The 350-acre campus alongside Connecticut's capital city has 4,000 undergraduate and 1,900 graduate students representing 49 states and 44 countries.
Nwenyi recognized at St. Lawrence University
Chidera Nwenyi of Gilroy has been named to St. Lawrence University's Dean's List for achieving academic excellence during the Spring 2022 semester.
Nwenyi is a member of the Class of 2024 and is majoring in chemistry.
To be eligible for the Dean's List, a student must have completed at least four courses and have an academic average of 3.6 based on a 4.0 scale for the semester.
St. Lawrence University is located in Canton, N.Y.