Gallery 1202 presents two-person sculpture show
Gallery 1202, 7363 Monterey St., presents "Nature's Dream," a two-person sculpture show with Northern California artists Adon Valenziano and Wesley Wright opening Jan. 7.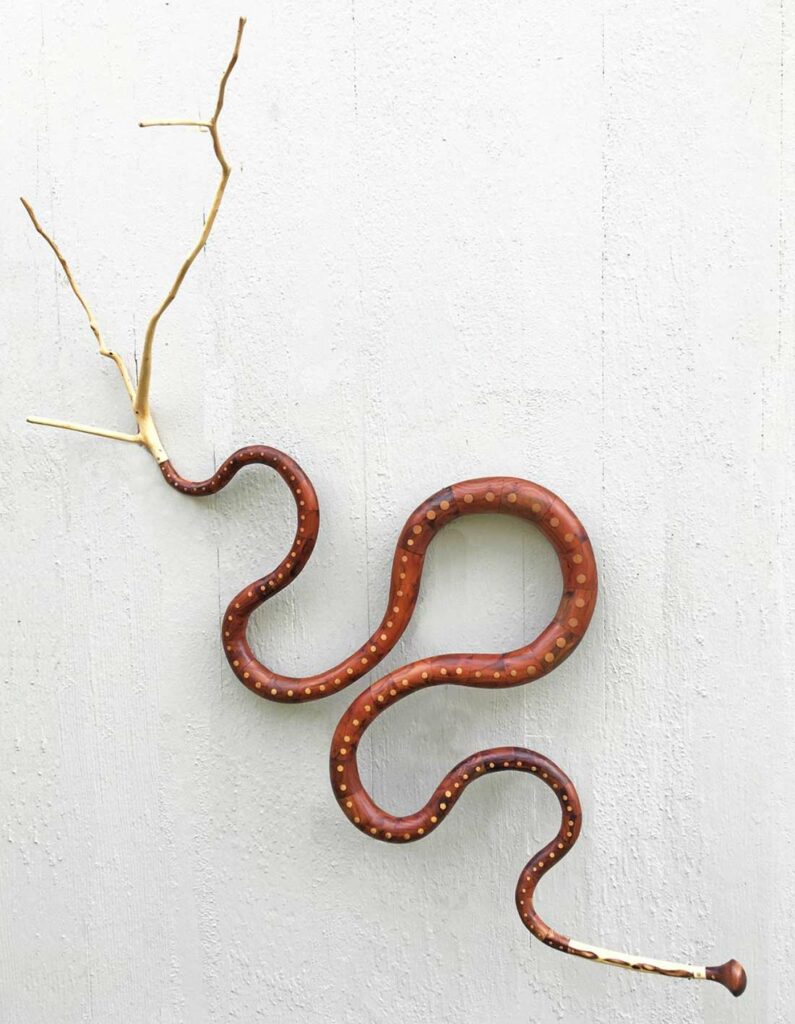 In this exhibition, Valenziano showcases works from two different series: Fruits of Labor and Biometamorphs. Valenziano describes his Fruits of Labor pieces as "A celebration of the transformative power of physical labor," created from an assemblage of natural wood and epoxy.
In addition, Valenziano describes his Biometamorphs as "hybrid creations, from 'bio,' meaning life or organism, 'meta,' meaning to transform or transcend, and 'morph,' meaning form or shape."
Wright's ceramic works in this exhibition explore what it means to exist in this world at this time, through reimaginations and homages of California wildlife and beyond.
The show will run through Feb. 11. The opening reception will take place on Jan. 14 from 6-9pm.
For information, visit Gallery1202.com.
Book sale returns Jan. 14
The Friends of Gilroy Library holds a book sale every second Saturday of the month from 10am-1pm at the library, 350 West Sixth St.
The next sale is Jan. 14.
Books will be $5 per bag for members and $8 a bag for non-members. Membership is $5 per person annually, and $10 per family.
DVDs and CDs are included in the bag sale.
The bookstore is in need of donations of teen fiction books, cookbooks, current fiction and science fiction.
The Isabel Jewell Bookstore is open Monday, Tuesday and Friday from 1-3pm, Wednesday from 1-4pm, Thursday from 10am to 3pm and the second and fourth Saturdays of the month from 10am to 1pm.
City recruiting historian
The City of Gilroy is currently recruiting to fill the City Historian position that will expire on Jan. 7.
Those with a passion for history are encouraged to fill out an online application by Jan. 17 to be considered for this position.
The City Council will review all applications and make an appointment at the Jan. 23 meeting.
The online application can be found at ow.ly/calG50Mb3LC.
NROTC offering scholarships
The Naval Reserve Officer Training Corps (NROTC) is offering a Marine Corps Options Scholarship for eligible students.
The scholarship is designed to educate and train qualified young men and women for careers as commissioned officers in the United States Marine Corps while providing full tuition. The scholarship also includes:
• Lab fees, books and uniforms
• Provide leadership opportunities within the ROTC unit
• Stipend between $250-$450 per month through freshman-senior year
To be eligible, applicants must:
• Be a U.S citizen (born or naturalized) and be between the ages of 17-23
• Be physically qualified by Marine Corps standards
• Have no moral disqualifications
• Be a high school graduate (upon completion of your senior year)
• Have a minimum 1000 SAT or 24 ACT or 74 Armed Services Vocational Aptitude Battery (ASVAB)
• Be admitted to a participating NROTC college or university
• Have a minimum score of 200/300 on the Marine Corps Physical Fitness Test
To apply and learn more about the scholarship program and other education opportunities, reach out to Marine Corps Recruiter Gunnery Sergeant John T. Rees at the Recruiting Sub-Station Gilroy, 1280 First St., Suite C, or at 408.203.7592.