Giovanni Albanese and Robert Anderson admitted they were nervous when they finally opened the doors to their brewery, Settle Down Brewery & Taproom, in downtown Gilroy.
The two have been brewing hundreds of different beers for years, based on their own tastes. They wondered, would the public have the same palate as them?
Albanese and Anderson also announced their brewery more than two years ago when they signed a lease for the spot at 7515 Monterey St. But the opening date continued to get pushed back, as the building had to not only undergo earthquake retrofitting, but faced constant delays with electricity hookups from Pacific Gas & Electric, a problem that continues to this day and is affecting countless projects throughout the city.
Would everyone lose interest after so long?
But after customers drank 80 gallons of beer over the past two weekends, it's safe to say those worries were for naught.
Since early February, Settle Down Brewery & Taproom has been open on Saturdays from 1-9pm.
"The community has been great about being patient," Albanese said. "They came out, and they came out hard to support us."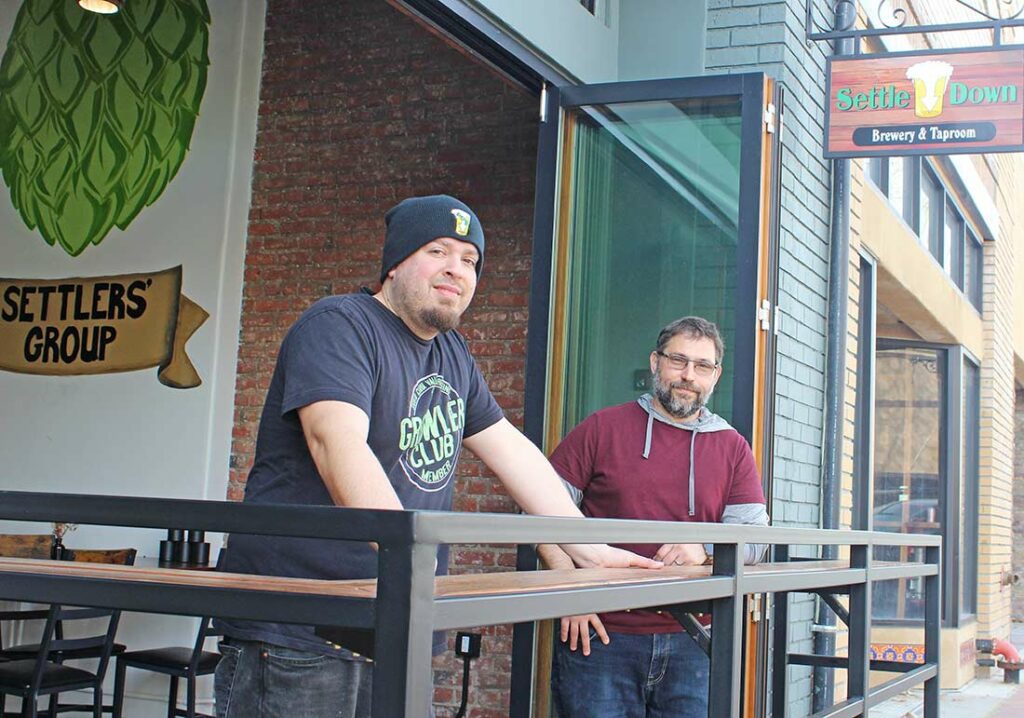 On Monday afternoon, Albanese and Anderson were busy cleaning their brewing equipment as they prepared to make another batch for what they are predicting will be another busy Saturday.
By their estimates, the two have brewed more than 350 different beers over the past decade-plus, with the goal of trying new twists on flavors no other brewers have attempted. They've covered all types of lagers, pilsners, IPAs and more, with sours such as smoked honey ham scotch blonde, bleu cheese and olive martini lager, among other flavors.
After sharing their creations with family and friends to rave reviews, they decided to take their venture to the public, and later found the building at 7515 Monterey St.
Not only did they construct a patio facing Monterey Street, but the rear of the building also has space to enjoy a brew on Gourmet Alley. Such a business is what downtown property owners are hoping to attract to Gourmet Alley, which stretches from Third to Seventh streets.
"A lot of people have told us, 'we are so happy you're here, this is what downtown Gilroy needs,'" Anderson said.
Albanese said once PG&E fully electrifies the building, the goal is to finally do away with the small, home brew equipment and fire up the larger system to expand capacity and hours of operation.
For information, visit settledownbeer.com.