In 2021, Matt Gallion experienced what many employees in the fast-paced world of modern society feel: burnout.
Working in the finance department at a local car dealership, Gallion realized at one point that he had been working 12-hour days for more than a month straight. He loved the car business, he noted, but in the back of his mind he always had the idea of starting something surrounded by beer.
The Gilroy native thought such a venture would be too much for one person to handle, so he turned to his friend of 20 years and fellow Gilroy High School graduate Raj Sharma with the business idea. The timing couldn't have been better, as Sharma said he was also toying around with the idea of starting his own coffee shop or restaurant.
"When Matt came to me with this idea, I thought it sounded amazing and a lot of fun," Sharma said.
The two came across the vacant building at 7499 Monterey St. in downtown Gilroy, which was home to Mafalda's Bridal & Tuxedo before closing earlier in 2021.
From there, everything fell in place in rapid succession, and despite almost being defeated by some complicated fire sprinkler requirements, Pour Me Taproom celebrated its grand opening on Feb. 18.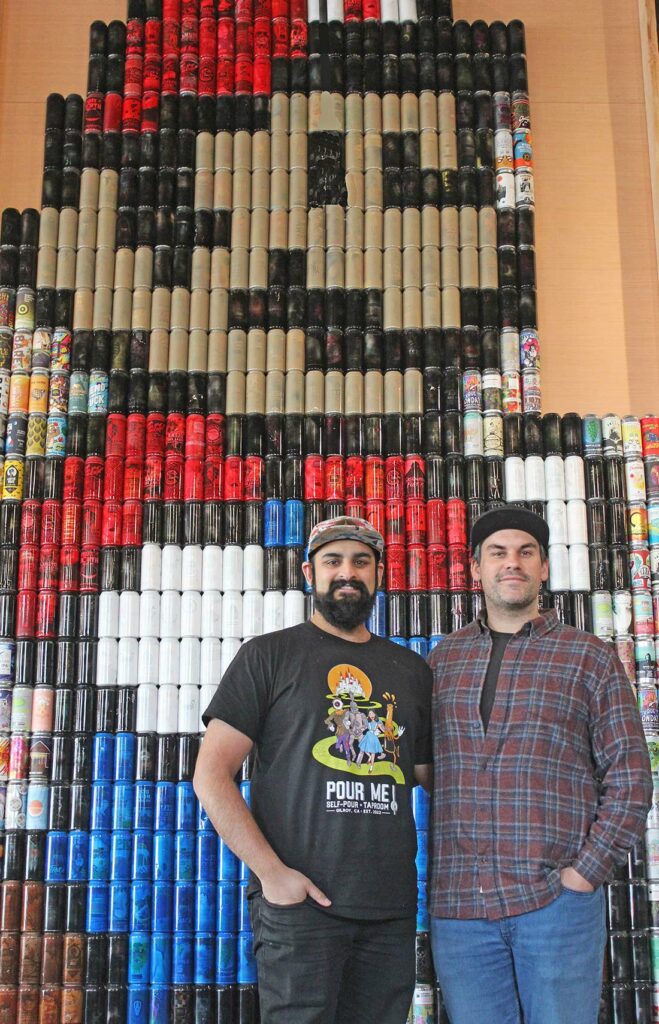 The self-pour taproom is a concept that very few others in the region offer. When customers walk in, they receive a card that serves as their tab. They then walk over to the taps where they can try about 30 beers by the ounce. With each beer, customers enter their cards into the system, which keeps track of how much they have poured.
After enjoying their beer and conversing with friends over the table or a game of cornhole, they will return to the front desk to check out and pay their tabs.
Sharma said the craft beer on tap is all from small, mom-and-pop breweries from throughout the state, with the goal being to constantly bring new beers to Pour Me Taproom. Currently on tap is a double IPA from Colony Mash Brewing Co. in Atascadero, pale ale from Mindscape Fermentations in Rocklin, and altbier from Silva Brewing in Paso Robles, among many others.
"The beer community is amazing," Gallion said. "It's such a strong and supportive community."
And where else can you find Donkey Kong, Batman, Grogu, Gordon Ramsay and Donald Duck under one roof?
Dominating the space is a massive mural above the taps created by San Jose artists Drew Roulette and Tom Woodrum, featuring various cartoon, comic book, TV show and movie characters all sitting in one room drinking beer.
"This was a foundational piece of the idea of the taproom: adding a big mural with a bunch of fun, funny characters from our childhood with an adult twist on it," Gallion said.
Adjacent to the mural is a floor-to-ceiling art piece made out of painted beer cans in the shape of Super Mario from the video game series.
Gallion said in the near future, Pour Me Taproom will offer regular events, including trivia nights and karaoke.
"Everybody loves it," he said. "It adds a key element to the downtown that we've been missing forever. We're happy that they're happy."
Pour Me Taproom, 7499 Monterey St., is open Wednesday through Friday from 4-11pm and Saturday-Sunday from 1-11pm. To view a list of beers on tap, visit pourmetaproom.com.