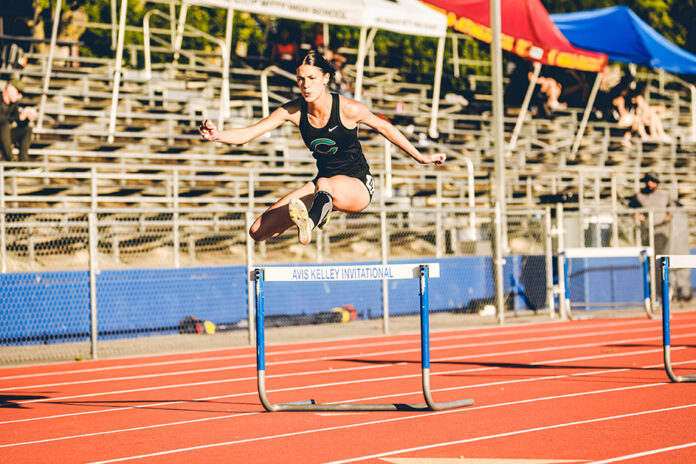 Since Melia Middleton started to focus on herself instead of the competition, she's taken her speed to another level.
The Christopher High senior broke through to win the title that has eluded her since she was a sophomore: a Central Coast Section Championship in her best event, the 300 meter hurdles. Middleton won the race in a personal-record (PR) of 43.74 seconds and ran another big PR in the 400 in 55.92 seconds to finish second in the Finals May 20 at Gilroy High.
Middleton qualified in both events for the CIF State Championships May 26-27 at Veterans Memorial Stadium on the campus of Buchanan High in Clovis. The University of Nevada-Reno signee is headed to State along with teammates Gabriela Baxter (high jump), Kingsley Okoronkwo (long jump), Isabella Browne (ambulatory) and Unified runners Gabriel Heredia, Blake Roberto, Martin Picazo and Mathew Rickard.
Middleton has placed first in the 300 hurdles in each of the nine times she's competed in the event at a meet this year. In a stat that underscores the magnificence of her season, Middleton has reduced or equaled her PR in the last five consecutive meets, starting with the Avis Kelley Invitational all the way back on March 25.
Her success in the 400 has been similar, as Middleton is running nearly four seconds faster than the 59.42 she posted in her opening meet of the season.
"I definitely started the season a little rocky running 58s in the 400 and now down to 55s and thinking what else can I do and how much faster," she said. "This year I'm just trying my best and putting it all out there. Just a lot of training, a lot of work, and focusing more on breathing. The key has really been focusing on working against myself versus working against other people, working on my times to move down. This entire season was just working on myself."
And Middleton definitely found her sweet spot, as evidenced in both races. She needed to hold onto her position in the final straightaway against hard-charging competition. Whereas in the past Middleton would've been passed, this time she held strong to the finish to lower her school records in both events.
Middleton admitted she didn't run her cleanest race in the 300 hurdles, grazing the penultimate hurdle which threw off her rhythm a bit. To her right a couple of lanes over, Middleton saw Gunn's Avery Adelman coming on fast.
"That seventh hurdle was not very good," she said. "I was like, 'What's going to happen now?' Was trying to wipe it off my mind and get over that last hurdle when I saw Avery was on my tail and knew I had to go."
Like Middleton, Okoronkwo is headed back to State for the second straight year. But this time it's in the long jump, which relative to the competition has become his best event. Okoronkwo finished sixth in 22-8 ¾ in the CCS Finals, but qualified for State by clearing the at-large standard of 22-7.
Still, he's intent on hitting a much bigger mark at State.
"I expect to do better," said Okoronkwo, whose PR of 23-2 is the 16th best mark in the state this year. "Definitely qualify and go to the finals Saturday."
Okoronkwo was pretty consistent across the board at 22 feet and the one that qualified him to State was actually into a 1.6 m/s headwind.
"With the amount of headwind, I'm surprised I even hit that one," he said.
Okoronkwo barely missed out on the final qualifying State spot in the triple jump, his 44-5 ½ a mere quarter of an inch off third place and the final State automatic qualifier. Though Okoronkwo was disappointed with his triple jump performance, he's looking forward to competing in the long jump at State.
"It's definitely a different atmosphere, different training and everything so I guess I can approach it a little bit differently," he said.
Baxter wasn't quite sure whether she would qualify for State this season, but her continued improvement earned her a trip to Clovis. She tied for second with two other athletes by clearing 5-5, equaling her PR which she set at the Stanford Invitational April 1.
Baxter hit 5-5—the at-large standard—so her place was secure midway through the competition. After that, it was about placement and she ended up in a three-way tie for second. Baxter only started high jumping her sophomore year as her freshman season was lost due to Covid.
She started at 4-6 but developed quickly, hitting 5-feet four times that season. Last year in her junior season, Baxter improved to 5-2 and just as important was consistently clearing 5 feet. This season Baxter has placed first seven times, a testament to her hard work and determination.
"My goal was to PR which I did twice this season," she said. "I wasn't sure about going to State, so obviously I'm ecstatic about what I did."
Browne is a defending State champion in the ambulatory events and said she appreciated Christopher coach Jeff Myers for bringing the event to the CCS stage last year.
"Coach Myers got me into it and he has been a really good impact in my life," Browne said. "He's been there for me since day one."
Middleton is enjoying the final days of her record-breaking CHS career.
"It's been a really good season," she said. "I know I'm going to miss it, but it's a really good way to go out."