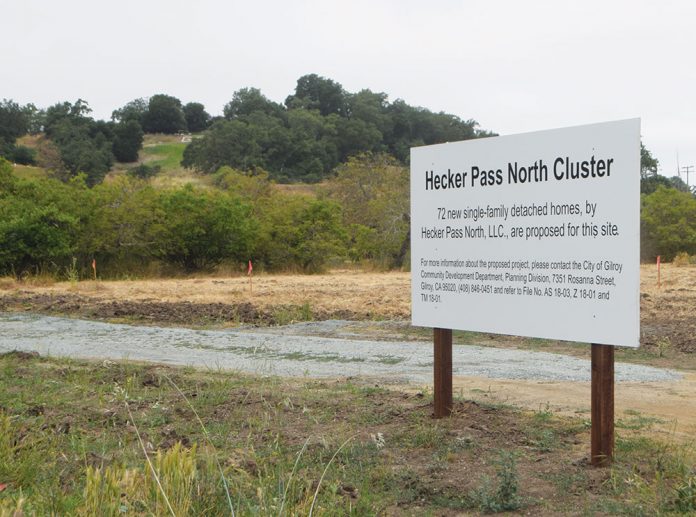 Housing along the Hecker Pass Corridor will likely continue to expand.
The Gilroy Planning Commision next month is to consider an additional 72 single-family housing units immediately east of the Gilroy Municipal Golf Course.
The expected go-ahead from the Gilroy Planning Commision was put off until the next meeting on June, 7.
The North Hecker Pass Residential Cluster will consist of 72 single-family residential lots, seven open-space parcels, two private and two public streets on 22.44 acres of land. The lots will range from 3,710 to 13,630 square feet.
The North Cluster is the third phase of residential growth in the land governed by the Hecker Pass Specific Plan. The East Cluster initially allowed 259 units and the West Cluster, 205.
The North Cluster was initially allocated 52 units, but developers plan to use every unit allowed them. The East Cluster, which has developed 243 housing units, had its remaining 16 units redistributed to the North Cluster.
To mitigate increased traffic, a traffic circle, or roundabout, will be built on Hecker Pass Highway where the road intersects with Third Street and the future Autumn Drive, the entrance for the North Cluster.
The area is bordered on the east by the golf course, vacant hillsides and homes to the north, the Barn at Hoey Ranch to the south, and vacant land to the east. The property was formerly used as pasture land.
The development is another expansion of the Hecker Pass Specific plan, which was passed in 2005 to plan for the development of the Hecker Pass Corridor. Of the 425 acres included in the plan, 163 acres are for residential use, 115 acres for commercial and agricultural, with 125 acres set aside for open space. At first 530 total dwelling units were proposed, the Gilroy City Council later reduced it to 506 units.
There are four planks for the Hecker Pass Specific Plan: protect and enhance the unique qualities and character of Hecker Pass Corridor, encourage dense development, to keep traffic flowing on Hecker Pass Highway by limiting driveways and preserve open space for wildlife and vegetation.
Of the 22.44 acres in the North Cluster, 9.6 acres will be set aside for open space, parks, and landscaping.
The project will include 390 parking spots, at least two per home with 102 on-street parking spaces.
There will be several varieties of architectural designs: Spanish, Craftsman, French Country, Farmhouse, and Mediterranean.