When you enter the Gilroy Veterans Memorial Building on Sixth and Eigleberry, you will see photos of local veterans and awards they have earned. One of these is Bill Economou, a World War I hero. 
Bill's story is uplifting, and you may be able to add to it. Perhaps you met Bill before he passed away in 1965, or maybe—as with two of my friends—your parents told you about him. Please contact me at [email protected] if you have any information about Bill Economou.
Born on November 6, 1892 in Macedonia, 20 years before it became part of Greece. He was the son of Nicholas and Ellene Economou, and the brother of Apostolos, and Constantina. His father was a well-to-do tradesman who owned extensive properties in Athens as well as in Macedonia, but he died at the age of 45. When Bill's mother passed at 38, a very young Bill went to work in a plaster works at Athens.
In 1907, hoping to improve his condition, he came to America, landing in St. Louis. Five years later he came to San Francisco and opened a cafe, known as the "Old Frisco," at Polk and Broadway, but financial reverses forced him to work for others until 1917, when he and a partner opened a restaurant in Berkeley. But events in Europe were to change his life.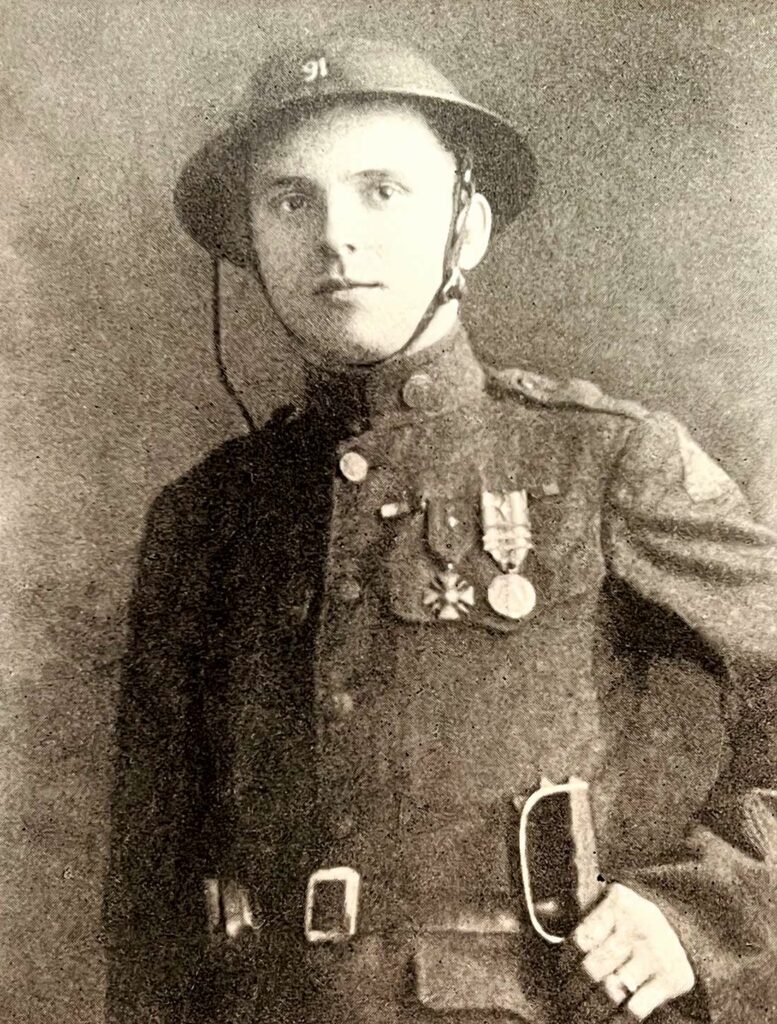 Despite his new enterprise, he answered his adopted country's call and enlisted when the Unites States entered World War I. On April 26, 1918 he reported to Camp Lewis, Washington, and on May 25 was transferred to Company D, 369th Engineers, in the 91st Division—known as the "Wild West Division," with a fir tree insignia symbolizing its men were from the Far West. After training, the unit was transported across the continent, and on July 6, 1918, they embarked for France.
Crossing the Atlantic, a German submarine was sighted, giving the squadron a few minutes of target practice. They arrived at Liverpool on July 18 and four days later were at Cherbourg, where they were scattered in half a dozen villages covering about 20 miles of territory.
On September 16 they marched to the Meuse-Argonne Offensive, where alarms for poison gas were blaring, yet they built bridges by moonlight over shell holes in "No Man's Land." On September 25 orders came to move into the front line trenches which had been manned by the French for four years. At 2:30 in the morning they made their first move, the barrage of guns was so intense it seemed as if the whole world was rocking, but they accomplished their objective.
After eight days of severe fighting they had 8,000 casualties, and were permitted to rest. For most of those eight days the men had only as much food as they carried, none of it warm. They had no overcoats or blankets, and were so worn out by continual fighting that they often slept standing for the few minutes they had. The enemy was firmly entrenched, but once they destroyed the German machine gun nests, they held their position in what many consider the most severe fighting Americans faced during the war. Bill distinguished himself by saving many fallen comrades.
After resting a few days, they were ordered to join the French Corps in Belgium, and with scarcely any rest were thrown into battle on the main road to Brussels. Here, in the Battle of the Lys and the Escaut, they helped dislodge the Germans from strong fortifications.
Volunteers were sought to make reconnoissance, Bill was one of eight men selected and the only man to penetrate the German lines, reaching their headquarters a mile inside. Bill was able to secure strategic information, including that the Germans were evacuating the town. Somehow, the enemy became aware of the spy in their midst, and at daybreak began shelling to get him. Bill hid in tunnels until he heard the last bridge blown up, and when he came out, he was surrounded by Belgian civilians who wanted to see the first American to reach their town. Tragically, a German plane spotted the crowd and dropped three bombs, killing some civilians, but Bill was safe.
As he tried to make his way out of town, he was followed by enemy fire, so he took refuge in a damaged building. When the Germans dropped a gas shell, he was so weak and tired he could not get his mask adjusted in time and was overcome for over an hour.
It took Bill hours to reach his own lines and deliver information to his officers. The engineers were able to begin building bridges over the river with material Bill had discovered, and he piloted ambulances into Audenarde, as he was the only man who knew the road. It was so dark and stormy he stood on the running board to guide them. Again he was gassed, and again he could not get his mask on in time. Arriving in the town he worked to assemble the wounded and establish a first aid station at Hotel Le Ville.
The Allies advanced 23 miles in three days, and dislodged the Germans. Finally, Bill's unit was ordered to rest. When French forces lost some of the ground gained by the Americans, Bill's unit was ordered to launch a second offensive, and they regained lost ground. They continued to press the Germans back when—at the 11th hour on the 11th day of the 11th month—the armistice was signed and the war was over.
For distinguished service, Bill Economou received the Croix de Guerre and the Gilt Star (signed by Marshall Petain, leader of the French Army) from the French Government, along with the Silver Star and the Victory Medal with three clasps (signed by General Pershing, leader of the American forces) from the United States.
After the war, Bill became a member of the Gilroy National Guard.
On to Gilroy
With his unit, Bill left France, arriving in San Francisco on April 29, 1919. and was discharged at the Presidio on May 3. Returning to civilian life, Bill remained around San Francisco a short time before coming to Gilroy, where in August 1921 he opened the Victory Cafe. Here he built up a good and profitable business, and took an active part in the Gilroy Chamber of Commerce and the American Legion. A Republican in national politics, in local matters he supported the best candidates. In faith he was a member of the Greek Orthodox Church. Dave Sturla related how his Dad would talk about Bill, and that at some point opened a restaurant—The Plantation Inn—across from St. Mary's. It later became Marson's.
An incident at Bill's new restaurant illustrates his courage:
From the Santa Cruz Sentinel – November 14, 1933 
GILROY RESORT OWNER BESTS THREE BANDITS 
Reckoning without a secret alarm buzzer and the unexpected bravery of the proprietor, two gunmen were completely routed in an attempted hold up here early yesterday. 
They ended up in the Wheeler hospital, one unconscious from a severe beating and a "creased" head, the other with two bullets through his jaw. 
The hero of the day was William Economou, proprietor of the Plantation Inn, on the main street. Economou was aroused from his sleep in a room above the restaurant by the ringing of the hidden burglar alarm. 
Arming himself with a revolver he descended in the restaurant to find a score of patrons and his waiters lined up against the wall. One gunman covered them while the other was rifling the cash register. 
Economou went into action at once, dropping one gunman with two well directed shots through the jaw and "creasing" the head of the other with a third shot. 
The second man offered resistance, but went down in a flurry of fists. Economou completed the job by knocking him unconscious with a blow from the bottom his revolver. 
At the hospital the gunman who was shot through the jaw gave his name as George Grafft, 32. Police were searching their records for a possible trace of his past activities. The other gunman was still unconscious today. 
Bill's ownership of the Plantation Inn lasted perhaps until 1957 when the city directory states James Marson became the owner. According to Bette Thomas, probably some time after 1957 Bill taught her mother, Esther Perucca, how to cook for large groups at the family's Oak Dell Park.
The last listing for Bill Economou, in 1964, gives just a post office box number. The next year his obituary appeared:
The Gilroy Dispatch – July 30, 1965

Entered into rest, Economou, in this city, July 28, 1965; William N. Economou, dear brother of one sister and sister-in-law, and uncle of nieces and nephews in Greece; veteran of World War I; member and past commander of Gilroy Post 217, The American Legion, and John A. Berri Post 6309, Veterans of Foreign Wars; member of Disabled Veterans and of Gilroy Lodge of Odd Fellows; a native of Greece, age 72 years. 
Military funeral services Saturday, 10 AM at Habing Funeral Chapel under auspice Gilroy Post 217. Internment Veterans Plot, Masons and IOOF Cemetery.