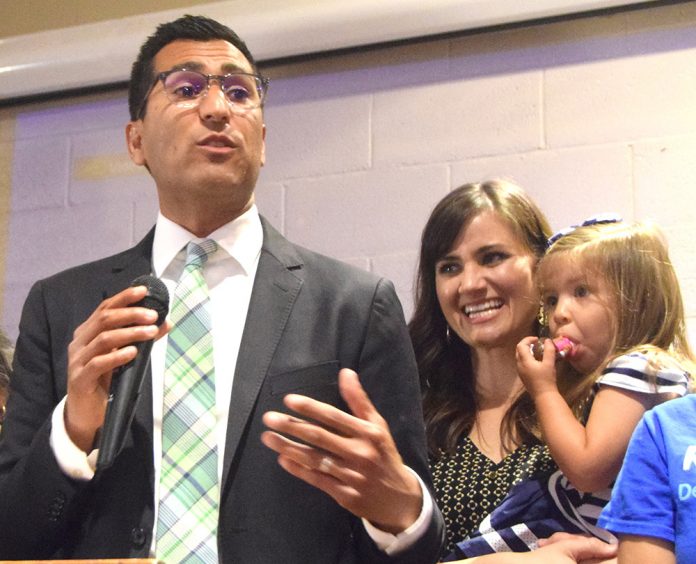 Early returns from the four counties in the sprawling 30th Assembly district left no doubt about the front-runner, San Benito County Supervisor Robert Rivas. He will likely face first-time Republican candidate Neil Kitchens in a November runoff, as fellow Democrat and Gilroy City Councilman Peter Leroe-Muñoz trailed late Tuesday.
With 54 percent of partial returns from mostly rural precincts at 11:15pm, the California Secretary of State reported Rivas leading balloting with 44 percent, with Kitchens at 32 percent and Leroe-Muñoz at just 11 percent.
"I'm elated, and I'm grateful to the voters of Assembly District 30," Rivas said election night. "I'm ready to continue in November, to talk about the issues important to the voters in this district and California."
The Rivas campaign, accompanied by mariachi music, food, drinks and a generally festive mood, exuded confidence in the early results.
With the Democratic vote split, Kitchens, a national delegate for the Republican National Committee, emerged as the likely foe for Rivas on the runoff ballot. Kitchens has listed his jobs as a professional forester, rancher, lawyer, criminologist, real estate investor and residential property manager.
District 30 includes San Benito County and parts of Santa Clara, Santa Cruz and Monterey counties, including the cities of Morgan Hill, Gilroy and Hollister, with about a half million residents.
The district is currently represented by Anna Caballero, who is running for state senate in the 12th District.
Leroe-Muñoz, is a former San Benito County deputy district attorney who works in San Jose for the tech industry's Silicon Valley Leadership Group, and ran on a public safety and economic development platform.
Two-term Supervisor Rivas was a leader in the successful anti-fracking measure in San Benito County who ran a primary campaign emphasizing diversity and his rural roots, which has been heavy on endorsements, including Caballero, civil rights leader Dolores Huerta, and the political arms of the state teachers, nurses and public employee unions.