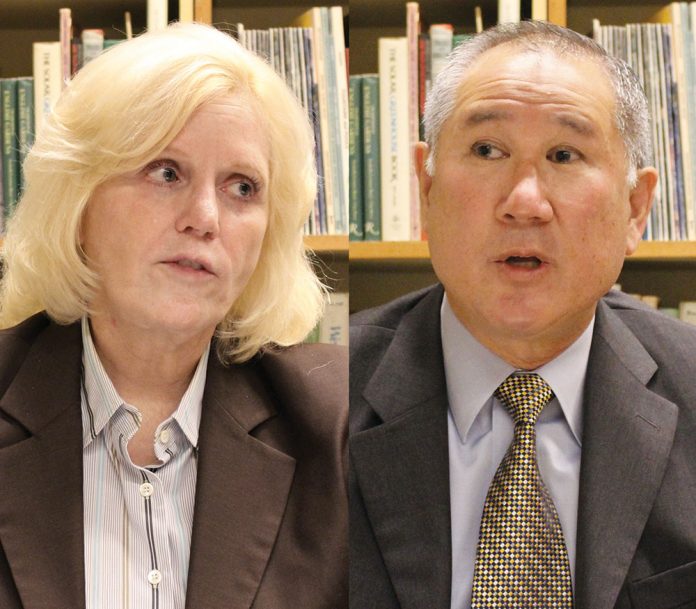 Incumbent Sheriff Laurie Smith and retired Undersheriff John Hirokawa said Tuesday night, with about 41 percent of the total expected ballots counted in the June 5 election, they are both prepared for a November runoff battle for Santa Clara County Sheriff.
As of 9pm, neither of the two frontrunners in the five-person sheriff's race received more than 50 percent of the ballots cast—the threshold that would prevent a Nov. 6 tiebreaker.
At that time, Smith was in the lead with about 45 percent, or about 57,000 of the votes cast. Hirokawa was in second place as of 9pm with 30 percent of the tallied votes, according to the county registrar's website.
Only 6 percent of the county's voting precincts had reported results by 9pm Tuesday. Smith, who is vying for her sixth term as sheriff, said "historically" those percentages don't change much as the ballot counting continues.
"If we don't win tonight, I'm looking forward to the next five months…I think that people appreciate the work done by the sheriff's office," Smith said while watching the election returns at the home of a supporter.
Hirokawa, who hosted an election night watch party at Kyoto Palace in Campbell, was also pleased with the results as of 9pm.
"Looking at the percentages with the incumbent at (45 percent), there's a clear message the voters want a change in the county in regards to their elected sheriff," said Hirokawa, who has never run for political office before the June 5 election.
Rounding out the rest of the field in the sheriff's race, as of 9pm, were Joe La Jeunesse (12 percent of votes counted), Jose Salcido (8 percent) and Martin Monica (4 percent).
For updated results of the June 5 election, visit morganhilltimes.com and the county registrar's website at sccvote.org.