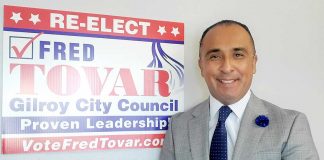 Fred Tovar announced July 17 that he will vie to keep his seat on the Gilroy City Council in the November election.
After eight years serving as a trustee on the Gilroy Unified School District Board of Education, outgoing member Rhoda Bress, 62, received a heartfelt farewell and standing ovation from colleagues, friends and family as her second term came to a close Thursday evening.
UPDATE: James Pace, Director of Land Development for Pembrook Development and father of two children attending GUSD schools, filed candidacy papers with the Santa Clara County Registrar's Office Aug. 9. Check back soon for more details.
Below are some of the most memorable things said from Gilroy community members in news stories in 2011.