Nature plays a starring role in Charly Malpass' paintings.
She not only focuses on the environment, but her work is good for it, too. Malpass uses paint from Tomorrow's Artist, which recycles discarded paint and turns it into a useable product for artists.
"This would typically go to the landfill," she said, adding that the United States throws out roughly 80 million gallons of paint every year. "We're collecting all this material and transforming it into art."
Malpass, a Truckee resident who has taught art in Greece, is staying in Gilroy over the next few weeks to mentor young people in the arts and create two murals downtown.
She is the latest to participate in 6th Street Studios and Art Center's artist-in-residence program, where artists have access to one of the studios at 64 West Sixth St. for up to three months while getting the community involved in various activities.
6th Street Studios was also one of six organizations and artists to be awarded with the inaugural Gilroy Elevate the Arts grants, a program by SVCreates.
Downtown Gilroy visitors had the chance to see Malpass painting her latest works during the monthly Third Friday Art Walk on July 21 presented by 6th Street Studios.
Currently living on a ranch in Gilroy, Malpass said she's seen many coyotes, which she is incorporating into her new series that mixes abstract art with animals.
Malpass is hosting a pair of mural workshops; one at 6th Street Studios for children ages 5-11, and another for advanced art students on Railroad Alley.
She noted that she wants to "celebrate Gilroy" with the Railroad Alley mural, which will feature two red-tailed hawks flying over a field that is sprinkled with some garlic flowers.
Malpass earned a fine arts degree from San Francisco Art Institute. She said she was loving the artist-in-residence program, which was her first such experience.
"This is an opportunity to express my voice," she said. "I feel like this is a good opportunity to shine."
Grant recipients
The recipients of the Gilroy Elevate the Arts grants and their projects are:
• Gallery 1202: Exhibition Series 2023-2024
• 6th Street Studios and Art Center: Traditional Arts Workshop Series
• MANOS: Second Annual Chalk Festival "Día de los Muertos" Theme
• Melanie Reynisson and Local Color SJ: Gallery in the Alley, Capos Murals
• Rubén Dario Villa: La Ofrenda Festival, Gilroy's Día de los Muertos Festival and Wellness Fair
• South Santa Clara Valley Memorial District: Eigleberry Street Patriotic Mural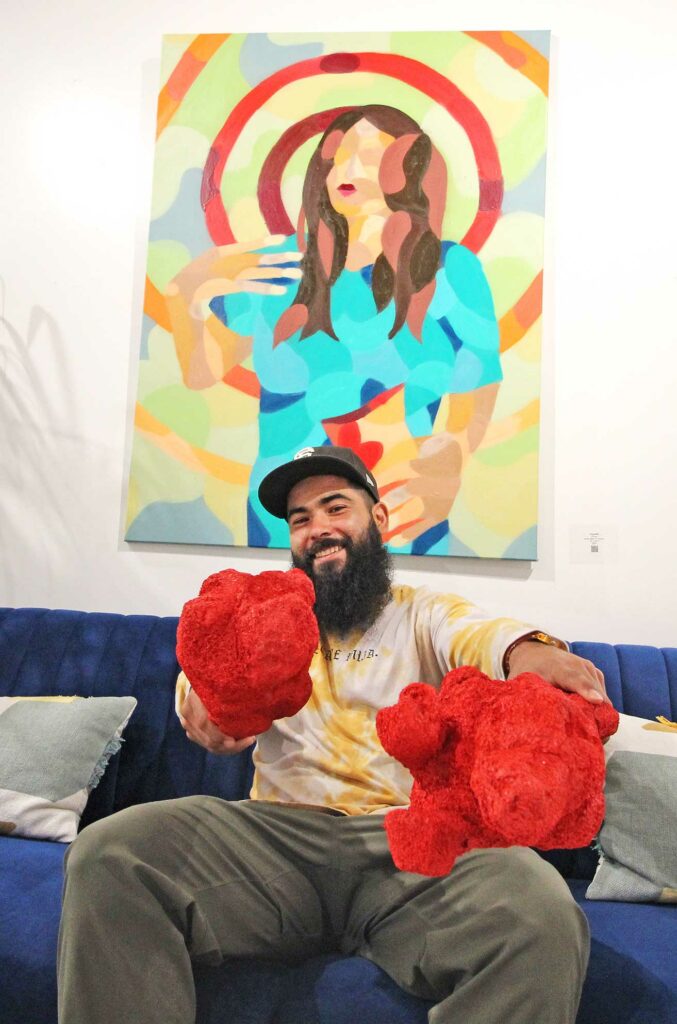 Artists and arts organizations in the Gilroy area were invited to apply for the grants to fund projects and programs that would take place from June 15, 2023 to July 31, 2024.
To be selected, projects, among other things, should raise the visibility of local arts, engage the community and support arts as an economic driver in Gilroy. Applicants could request grants between $5,000-$20,000.
Funding for the grants was from the City of Gilroy, the David and Lucile Packard Foundation and the County of Santa Clara.
Villa is organizing the inaugural La Ofrenda Festival, a Dia de los Muertos celebration scheduled for downtown Gilroy on Oct. 28. The event will feature altars adorned with marigold flowers to honor the deceased, as well as artistic performances, a community bike ride and more.
Villa said receiving the grant is "such an honor," and is further validation of his artistic endeavors that hit a high gear in January when he was laid off from his job at Google.
Art, which was once a "side hustle," is now his full-time career, he said. Villa opened his studio in Gilroy in March, and is the curator of "Flamin' Hot," an exhibit at Gallery 1202 featuring artwork around the Cheetos snack.
During the Art Walk on July 21, performers and vendors gathered at Gallery 1202 for a night of entertainment geared toward young people.
"To me, it was a moment that felt destined," Villa said of the grant. "It's about God and the plan he has for me."