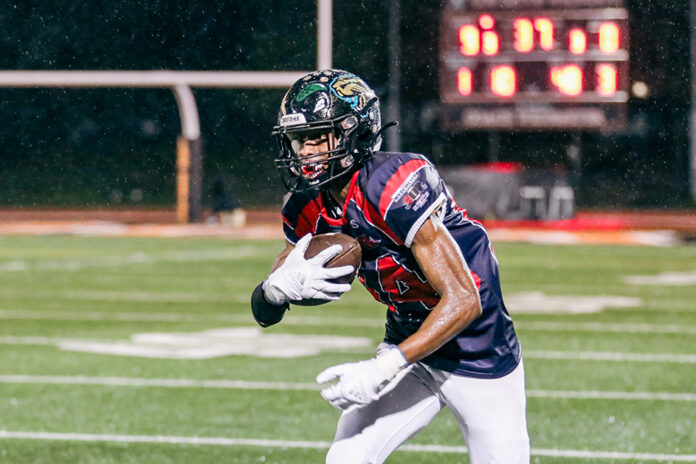 Jaterius Lee was in the stands in February 2022 watching his former Christopher High football teammates in the Charlie Wedemeyer All-Star Game.
At that moment, Lee made it a goal to get selected for the annual contest in his senior year. The 6-foot-3, 175-pound Lee notched another accomplishment in his athletic career by playing in the most recent Wedemeyer Game on Feb. 4 at Los Gatos High.
Kickoff was 5pm and the players endured pouring rain, high winds and cold temperatures.
"It was a crazy experience because I had never played in weather like that before," he said. "It was a different feeling. But the game was phenomenal. Going out there with the other players was a very fun experience. And being coached by coach P [Tim Pierleoni] again felt really good."
Lee was part of the South team that won, 9-0. Christopher's Alan Canales and Jacob Ahumada and Gilroy's Sam Hernandez, Frankie Delgado and Chimezie Elias (injured and did not play) also were selected for the Wedemeyer Game, which draws most of the top players from schools in the Blossom Valley Athletic League and Santa Clara Valley Athletic League, along with notable private schools Bellarmine, Mitty, St. Francis, Valley Christian, Harker and the King's Academy. 
All of the proceeds from the game go to Coaches Against Cancer and the ALS Golden West Foundation. The contest is named after the former Los Gatos High coach who was diagnosed with ALS in 1977 and was given just three years to live but ended up living for 33 years until his death in 2010.
Along the way, Wedemeyer became an inspiration to millions of people as they learned his life story.
Lee estimated he played 15-20 snaps on both sides of the ball, at his customary wide receiver and cornerback positions and punt return. Lee was a four-year varsity starter for CHS at cornerback.
In his junior and senior seasons, Lee also played wide receiver, totaling 80 receptions for 1,500 yards and 20 touchdowns in that span. His speed, agility and ability to juke defenders in the open field made him a threat to score a touchdown every time he touched the ball.
Defensively, Lee was a lockdown corner and rarely got beat for a big gain. He was instrumental in Christopher reaching its first-ever Central Coast Section playoff championship game in 2021 and then winning an A-league title for the first time in program history this past season.
Out of all the difference-makers in the CCS in the last couple of years, few have experienced the growth Lee has—literally. As a freshman, Lee weighed all of 115 pounds. Even as a junior, Lee tipped the scales at only 150 pounds, downright light in today's high school game.
"I remember my first game as a freshman against the King's Academy," he said. "I was small, so it was a little scary but fun at the same time."
One of the fun aspects of playing in all star games is making new friends and playing with guys from rival schools. In the practices leading up to the game, Lee instantly connected with Mount Pleasant's Skyden Shugen.
"We became friends the first day [of meeting] and just connected talking offense," Lee said. "It was fun connecting with someone outside of your area."
When Lee received the news he had been selected to the Wedemeyer Game, he was at work and immediately told all of his co-workers and then his parents.
"It was a really big deal for me and was one of the things I wanted to accomplish in my senior year," he said.
Lee knew the South squad would be in good hands with his teammate Ahumada at center. If the Cougars made a big play offensively, Ahumada often had a key block to make it happen. The inclement weather conditions made things tough for both teams to move the ball with any consistency, but Lee was ecstatic to be a part of such a special event.
The Wedemeyer Game is one of the more well known prep all star football games in the Bay Area because of its namesake. Gilroy's Pierleoni was coaching the South team and the history with him and the Lee family is rather special.
Pierleoni coached Lee in his freshman and sophomore seasons before Pierleoni left to become the GHS football coach and athletic director. Pierleoni also coached Lee's dad, Edwardo, when Pierleoni was a coordinator at Gavilan College in the mid to late 1990s.
Lee doesn't know what the future holds from a playing standpoint, just that he's set on moving back to the Memphis area upon graduating in June. Lee grew up in Memphis and most of his family still lives there. Even though he's departing in a couple of months, Lee will always be fond of his time in the South Valley, and especially what he helped the CHS football team accomplish.
"Coming in, the football program hadn't had many championships or even playoff showings here," Lee said. "I wanted to come in and at least by senior year leave a footprint at Christopher."